It's easy to open a Walmart account, which gives you access to a world of convenience and savings. With an astounding annual revenue of $572.754 billion and a workforce of 2.3 million devoted workers, Walmart was the model of retail success in 2022.
This guide will review the steps for creating a Walmart account, gaining access to benefits, and streamlining your shopping experience. Let's start on this journey to discover how to register for a Walmart account and utilize all Walmart offers.
Are Walmart Accounts Free?
The process of opening a Walmart account is entirely free. You can easily and affordably gain access to Walmart's platform, shop online, access special offers, and take advantage of free deliveries and rewards.
Walmart additionally provides a premium subscription service dubbed Walmart+, which offers even more significant advantages. Membership plans start at $12.95 per month or $98 per year.
Members of Walmart+ have exclusive access to Walmart Rewards, which enables them to save money for upcoming purchases. A Walmart membership has benefits that include various services and discounts, making it an excellent choice for regular Walmart customers.
Do You Need a Walmart Account to Order Online?
Yes, placing an order online through Walmart requires having an account. You must first create an account to take advantage of Walmart's convenience of online shopping. You can add items to your cart, go through the checkout process, and finish your purchase using this account.
How to Create a Walmart Account: Step-by-Step Guide
Let's walk through the process of creating a Walmart account:
| | | |
| --- | --- | --- |
| Step | Instructions | Description |
| 1 | Go to the Walmart Official Website | Visit the Walmart website and look for the "Create an Account" link. |
| 2 | Fill Out Your Basic Information | Provide your email address, password, name, and phone number. |
| 3 | Confirm Your Email | Check your email for a confirmation code and enter it on the page. |
| 4 | Confirm Your Password | Follow the email instructions to confirm your password. |
| 5 | Set Up Security Question | Enter and confirm a security question to enhance account security. |
| 6 | Connect Your Bank Account | If desired, connect your bank account for convenient payment options. |
How to Access Your Walmart Account
It's straightforward to use your Walmart account. You can easily log in to your account whether you prefer to shop on the Walmart website or through the mobile application. You have complete access to the Walmart shopping experience once you log in.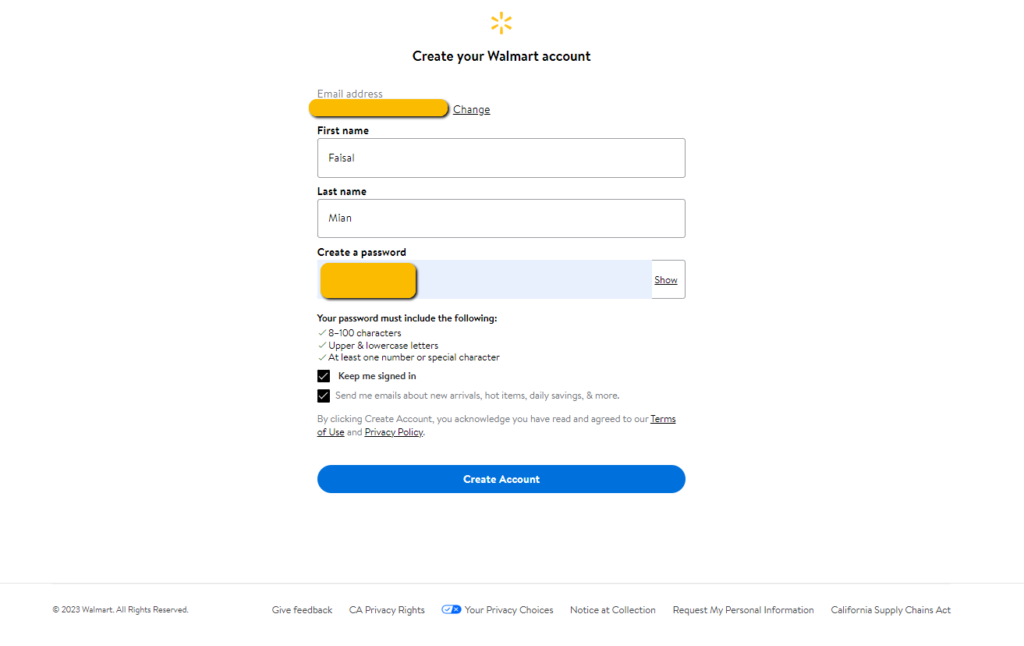 How to Retrieve Your Walmart User ID
To access your Walmart account, enter the email address you used during the account creation process. This email address is your WIN (Walmart Identification Number). Using this unique ID, Walmart employees can access employee perks, view their schedules, and request time off via the company's employee website.
How to Place an Online Order from Walmart.com
Walmart offers a diverse range of products available for online ordering. You can make three primary orders on Walmart's platform: Pickup, Delivery, and Shipping.
Navigate to the Walmart Website: Open your web browser and visit the Walmart website.
Log in to Your Account: Ensure you are logged into your Walmart account.
Search for Your Desired Items: Use the search bar to find the products you wish to purchase and click the "Add" option to add them to your cart.
Proceed to Checkout: Once you've added all your desired items to your cart, click "Continue to checkout."
Enter Shipping Information: Provide the shipping address details and click "Continue" to complete the payment process.
Payment and Confirmation: After making the payment, your online order will be successfully placed on the Walmart website.

Walmart's Expanded Delivery Services
Walmart's delivery services have been expanded to include same-day delivery in select areas. Customers can receive their orders the same day they place them with this convenient option, further improving the shopping experience.
Walmart Grocery Pickup & Delivery
In addition to traditional delivery services, Walmart has launched a new program called Walmart Grocery Pickup & Delivery. Customers can order groceries online and choose between picking them up at their local Walmart store or having them delivered to their homes using this innovative service. This program will benefit customers who want flexibility and convenience in their grocery shopping experience.
How to View Your Walmart Account History
You can access your purchase history through the Walmart website as a Walmart customer. Here's how to view your Walmart account history:
Visit the Walmart Website: Open your web browser and go to the Walmart website.
Log in to Your Account: Ensure you are logged into your Walmart account.
Access Purchase History: Click "Account" and select "Purchase History." Here, you will find a detailed list of your past purchases.
Walmart Membership Benefits
Walmart offers a range of membership benefits to enhance the shopping experience for its customers. While creating a basic Walmart account is free and grants you access to the platform, Walmart+ is the premium membership program that unlocks even more advantages. Here's a closer look at the benefits of Walmart membership:
Walmart+ Membership Benefits:
Walmart Rewards: As a Walmart+ member, you can accumulate savings for future purchases. These rewards can add up, providing you with significant discounts over time.
Free Shipping with No Order Minimum: Walmart+ members enjoy the convenience of free shipping on most items with no minimum order requirement. This is especially valuable for frequent online shoppers.
Same-Day Delivery: Walmart+ offers same-day delivery on a wide range of products in select areas. This ensures you receive your orders quickly, without waiting for extended delivery times.
Discounts on Gas: Walmart+ members can save on fuel costs with member-exclusive discounts on gasoline at Walmart and Murphy USA gas stations. This benefit can add substantial savings, particularly for those who commute frequently.
Scan-and-Go App Feature: For in-store shoppers, Walmart+ offers a convenient "Scan-and-Go" app feature. This allows you to scan items as you shop and pay through the app, bypassing the checkout line.
Access to Paramount+: Walmart+ members also get access to the Paramount+ streaming service at no additional cost, providing a wide range of entertainment options.
Walmart+ continually adds new incentives and benefits to make membership even more appealing. It's worth considering if you are a frequent Walmart shopper, as the savings and convenience it offers can quickly offset the membership fee.
Streamlined Shopping Experience
Walmart's commitment to enhancing the shopping experience extends to its digital platforms. Integrating general shopping and online grocery orders into a single Walmart app simplifies the process for customers.
Whether purchasing groceries, electronics, clothing, or household items, you can do it all in one place, eliminating the need to switch between different applications.
Additional Services: Walmart Delivery Options
Walmart offers various delivery options to cater to diverse customer needs:
Same-Day Delivery: Walmart's same-day delivery service ensures you receive your orders promptly, often within hours of placing them. This service is available in select areas and can be a game-changer for last-minute shopping needs.
Walmart Grocery Pickup & Delivery: For those primarily interested in grocery shopping, Walmart Grocery Pickup & Delivery is a flexible solution. You can pick up your groceries at a local Walmart store or deliver them to your doorstep, depending on your preference and schedule.
DoorDash Partnership: Walmart's partnership with DoorDash extends the reach of its grocery delivery services. Customers can access grocery delivery through the DoorDash app, making getting the items they need even more convenient.
Walmart Delivery Fees
The total value of the items in your cart determines Walmart's delivery fees. If your order exceeds $35, you'll be charged between $7.95 and $9.95 for delivery, product costs and taxes.
For orders under $35, the delivery fee is a flat rate of $5.99. These fees are competitive and provide cost-effective delivery options for Walmart customers.
Handling Delayed Walmart Orders
The delivery time for Walmart orders varies depending on the items you order. Groceries, for example, can arrive in less than three business days, whereas certain electronics, such as video game consoles, may require more time.
When you place an order, the status will change to "processing." In rare cases, there may be delays in the pre-transit phase, causing order delivery to take longer than expected. If your order has yet to arrive two business days after the scheduled delivery date, contact Walmart Customer Support for assistance.
While Walmart strives for timely delivery, there can be delayed orders. The delivery time for Walmart orders varies based on the items you order. Groceries, for instance, can arrive in less than three business days, while certain electronics, like video game consoles, may take longer.
What to do if your order gets delayed?
If your order is delayed and has yet to arrive within two business days of the scheduled delivery date, it's advisable to contact Walmart Customer Support for assistance. They can provide updates on the status of your order and help resolve any issues promptly.
Final Words
This comprehensive guide gives you all the information you need to open a Walmart account, shop online, and learn about membership and shopping benefits. Its various services and benefits reflect Walmart's dedication to providing a seamless and convenient shopping experience. Whether you're a seasoned Walmart shopper or new to the platform, this guide will help you quickly navigate the Walmart world.
Walmart offers a comprehensive in-store and online shopping experience backed by membership benefits and delivery options. Whether you're shopping for groceries, electronics, clothing, or other essentials, Walmart's commitment to convenience and affordability makes it a go-to destination for millions of customers worldwide.