Being a parent provides joy, love, and many obligations, including ensuring your infant gets the proper diapers. Walmart stands out as a trusted ally with a customer-friendly diaper return policy as parents navigate the world of diaper sizes, brands, and types.
Understanding Walmart's diaper return policy might make your shopping experience easier, whether you're a new parent, a caregiver, or someone purchasing diapers as a present.
This article profoundly delves into Walmart's diaper return policy, ensuring you're well-informed at every step.
In this article:
Understanding Walmart Diaper Return Policy
Receipt Requirements
Typically, the return process begins with the purchase receipt. Walmart does accept returns without a receipt; however, a receipt helps expedite the return procedure.
If you lose your receipt, Walmart's tool for locating lost receipts is useful. Using the Walmart app, you can now scan and keep your receipts digitally.
Refund and Exchange Options
Walmart enables the return or exchange of unopened diaper packs within ninety days of purchase. Ensure that the diapers are packaged in their original containers.
Even if you lose your receipt, you can still return unopened diapers as long as they are in their original condition. Exceptions may permit returns beyond 90 days but depend on store verifications.
Store Credit and Gift Cards
Walmart often offers store credit or a gift card as a refund for diapers priced at $25 or less when the original receipt is lost or missing.
For diapers priced at over $25, photo identification may be required for the return to prevent fraud. A Walmart gift card will be offered as a reimbursement in such cases.
How to Make In-Store Diaper Returns at Walmart
Returning diapers to your local Walmart is a straightforward process. Follow these steps to ensure a hassle-free experience:
1. Check Diapers' Packaging
Ensure that the diapers are in their original, unopened packaging. This is a crucial requirement for in-store returns.
2. Visit the Customer Service Desk
Take the diapers and your receipt (if available) to the customer service desk at any Walmart location within 90 days of purchase. Friendly store associates will guide you through the return process and offer options for a refund, store credit, or exchange.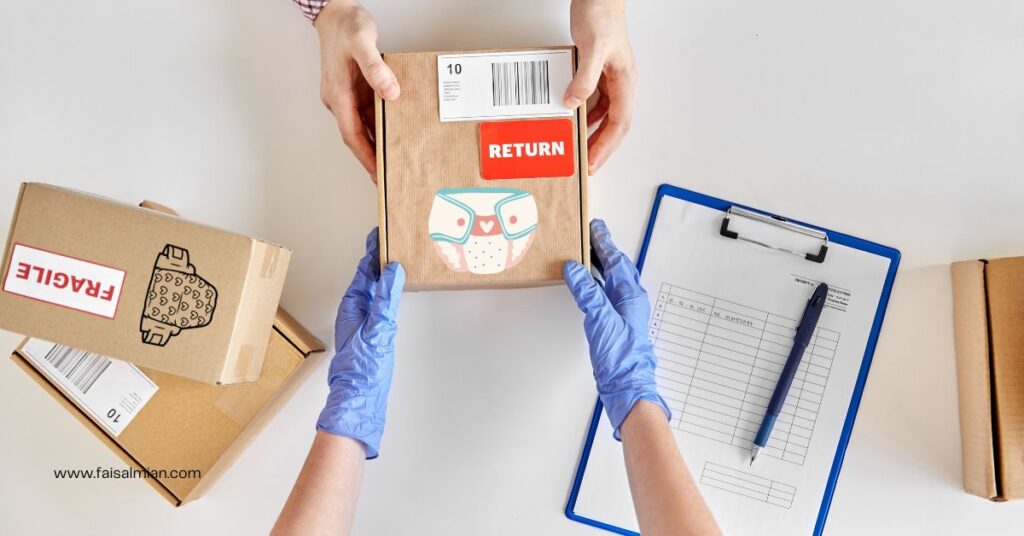 Returning Diapers from a Baby Registry
If you received diapers as a gift from a baby registry, you can still return them to Walmart. Follow these steps:
1. Confirm Registry Purchase
Before heading to the store, check your online account to see if the diapers were purchased from your registry. This information will help you confirm Walmart as the original place of purchase.
2. Visit the Store
Inform the customer service desk that the diapers are a gift from your baby registry. A store associate will assist you with the return process, and you may be eligible for store credit or an exchange.
How to Make Online Diaper Returns at Walmart
Returning diapers online at Walmart is a convenient process. Follow these steps to initiate your online return:
1. Log into Your Account
Start by logging into your Walmart.com account and access your purchase history.
2. Start a Return
Locate the diaper item you want to return in your purchase history and click "start a return" next to it.
3. Print a Return Label
You must print a free return shipping label to attach to your package. You can use your own printer or visit a nearby printing service center.
4. Package the Diapers Securely
Ensure that the diapers are in their original, unopened packaging, as Walmart does not accept returns for opened diaper packs due to health concerns. Pack the diapers securely and include any required documentation.
5. Drop Off the Package
You can drop off your return package at a USPS or FedEx location. Once Walmart receives the returned diapers, they will process the refund or exchange following their policy.
Returning Diapers from Marketplace Sellers
If you purchased diapers from a Walmart Marketplace seller, the return process may vary slightly, as these sellers often have their own return policies. Here's what you need to do:
1. Check Seller's Return Policy
First, check the seller's return policy, which may differ from Walmart's standard policy.
2. Follow Seller's Instructions
You will receive a confirmation email with detailed instructions upon initiating the return process. If necessary, contact the seller directly for additional assistance or clarification.
3. Monitor the Return Progress
Stay informed about the progress of your return to ensure a smooth experience.
Exceptions and Restrictions
Health Regulations: Opened packs or individual diapers are non-returnable due to hygiene concerns.
Defective or Damaged Diapers: Even if opened, you can return defective or damaged diapers within the 90 days with the receipt.
Diaper Exchange Options at Walmart
You can exchange unopened diaper packs for different sizes or styles per your baby's evolving needs. Walmart's inventory includes:
Newborn sizes
Swaddlers
Cruisers
Overnight diapers
Training pants
Eco-friendly options
| | |
| --- | --- |
| Size/Style | Description |
| Newborn sizes | Suitable for infants up to 10 pounds (4.5 kg). |
| Swaddlers | Designed for a comfortable fit and flexibility. |
| Cruisers | Ideal for active babies with extra absorbency. |
| Overnight diapers | Provides extra overnight protection. |
| Training pants | Designed to assist with potty training. |
| Eco-friendly options | Environmentally conscious diaper choices. |
Moreover, Walmart hosts a variety of popular diaper brands like Pampers, Huggies, Luvs, Parent's Choice, The Honest Company, and Seventh Generation.
Why Walmart's Diaper Return Policy Matters
Building Customer Trust: A clear return policy fosters trust and assures customers of product quality.
Attracting New Customers: Shoppers gravitate towards stores with flexible return policies, knowing they can shop risk-free.
Shopping Habit Insights: Returns give Walmart insights into customer preferences, helping them refine their product range.
Protection: A standardized return policy protects the customer and store from unfair practices.
Conclusion
If you are familiar with the diaper return policy at Walmart, you can purchase with confidence, knowing that you have various options to select from. If you adhere to their return restrictions, you can enjoy a streamlined shopping experience that is ideally suited to the ever-evolving requirements of your kid.
As usual, Walmart is committed to helping its customers and ensuring they are equipped with all they require to navigate the parenting path successfully.
For further clarity or concerns, contacting your local Walmart store or their customer service for assistance is always a good idea. Your satisfaction remains their top priority.