Walmart is one of the retail industry's top players because of its focus on customer convenience. Millions of people utilize Walmart's subscription service, Walmart Delivery Unlimited, since it makes shopping for food and home goods convenient and stress-free.
But life is unpredictable, and there may come a time when you have to terminate your Walmart subscription. Don't worry; we'll make sure you're taken care of smoothly every step of the way.
In this article:
What Is Walmart Plus?
Walmart Plus is their version of Amazon Prime. It's a new membership service that promises many benefits to people who sign up for it. Some of these benefits are:
Free Delivery: Members of Walmart Plus can get free delivery on all orders, no matter how much they spend. This makes shopping online easier.
Scan-and-Go Shopping: This feature makes shopping in stores easier by letting you scan items as you look at them, which cuts down on the time you spend checking out.
Discounts on gas: Walmart Plus members can save up to 10¢ per gallon at more than 14,000 gas stations, such as Exxon Mobil, Walmart, and Murphy gas stations.
Paramount+ Essential Plan: People who subscribe get the Paramount+ Essential Plan for free, saving you up to $59.88 a year.
These benefits are available for $12.95 a month or $98 a year, making Walmart Plus a cheaper option than competitors like Amazon Prime, which costs $14.99 a month or $139 a year.
Walmart Plus Free Trial
New members can try Walmart Plus for free for 30 days. This trial period can be a great chance to see how the service works, but it's important to keep these things in mind:
Credit Card Needed: Walmart Plus may ask for your credit card information to access the free trial. They can charge you if you forget to cancel before the 30-day trial ends.
Reasons to Consider Canceling Walmart Plus
Walmart Plus is a subscription service that helps members save money on a range of services, such as shipping and pickup, prescriptions, and gas.
At first, the monthly fee of about $12.98 or the annual fee of $98 might have seemed like a good deal, especially if you shop at Walmart a lot or like the idea of cheaper gas prices.
But there may come a time when the benefits don't fit your needs or tastes anymore.
How to cancel Walmart delivery subscription?
Let's discuss how to cancel your Walmart delivery Plus membership in detail. You can pick the best method from the three we'll discuss.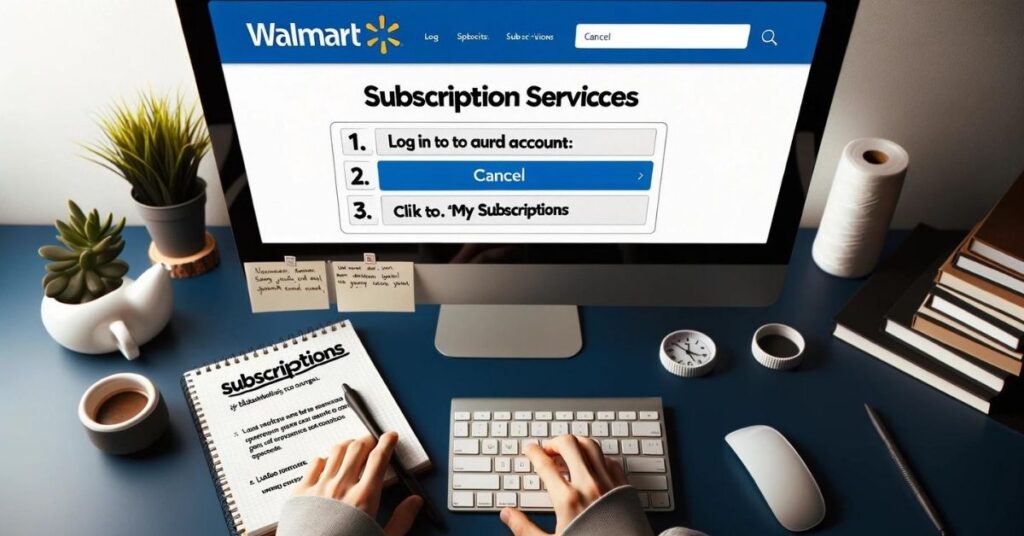 Method 1: Online via a Web Browser
Canceling Your Walmart Subscription: A Walkthrough Walmart, with its sprawling presence across the United States, Canada, and Mexico, offers a subscription service that is as enticing as it is practical. But circumstances change, and if you find yourself needing to part ways with this subscription, here are the steps you should follow:
Log into Your Walmart Account
The first step to canceling your Walmart subscription is logging into your account. Ensure you have your login credentials ready, as you will need them.
Navigate to "Your Account"
Once you are logged in, click on "Your Account." It is typically located in the top right corner of the page.
Choose "Delivery Unlimited"
Scroll down the page until you find the "Delivery Unlimited" section. This is where your subscription details reside.
Click on "End Delivery Unlimited."
To initiate the cancellation process, click on "End Delivery Unlimited." Walmart has made this step straightforward for its customers.
Confirm the Cancellation
After clicking, you'll be prompted to confirm the cancellation. This is a standard procedure to ensure the decision is deliberate.
If you want to cancel your free trial, you might want to wait until the last day. While the cancellation is still being processed, you may get an offer to extend your trial for 15 days. Pick "Cancel Free Trial" if you don't want to keep the trial going. Remember that you need to cancel before the trial ends so that your payment method doesn't get charged.
Method 2: Using the Walmart App
Canceling your Walmart Plus subscription via the mobile app is typically more straightforward than through the website.
Open the App: Launch the Walmart app on your mobile device and log in to your account.
Access Walmart+: Tap "Pickup and Delivery" on the home screen, then click the menu icon (three lines) at the top-left corner of your screen.
Account Information: Choose "Walmart+" under "Pickups and Deliveries" to access your account information.
Cancellation: At the bottom of the page, tap "Cancel Walmart+ Trial or Account" and follow the prompts to confirm your cancellation.
Walmart will notify you that you're no longer a Walmart+ member. You can continue enjoying the benefits until your current pay cycle ends. After that, you won't be charged, but you won't have access to the membership benefits.
Method 3: Via Phone
You can cancel your Walmart Plus membership by calling Walmart Customer Care at (800) 924-9206 if you'd rather talk to someone in person or are having trouble with the online options. Their customer service team is open daily from 8 AM to 10 PM CST. You might have to wait because customer service lines can get busy.
What Happens After You Cancel Walmart Plus?
You can go shopping as usual when you cancel your Walmart Plus membership. You might still be able to use some of the features that came with your subscription, but you won't be able to change any settings in the Walmart app. If you cancel before the renewal date, any charges still owed should go away soon.
Don't worry; you can always sign up for Walmart Plus again. We will keep your account in our database, and you will be charged again when you sign up.
You may see that your Walmart subscription is still showing up on your statement after the cancellation process is over. This is how Walmart handles billing, just how things are done. You could see things like:
WALMART.COM BENTONVILLE AR
WAL-MART #1102 SYLVAN LAKE CAN
WM SUPERCENTER #5420 KISSIMMEE FL
WAL-MART #2280 MOUNTAIN VIEW CA
WAL-MART SUPERCENTER 25 GOODLAND
WM SUPERCENTER #5299 CLERMONT FL
WALMART.COM BENTONVILLE
WAL-MART #4557 LAS VEGAS NV
WHITEHORSE STORES SURREY GBR
WAL-MART # 1112 PORT COQUITLA CAN
WM SUPERCENTER #4557 LAS VEGAS NV
WM SUPERCENTER #2412 ELLICOTT CITY MD
WAL-MART #1832
WAL-MART #1879
WAL MART CHIHUAHUA
MURPHY6774ATWALMART
WM SUPERCENTER #2152
WM SUPERCENTER #2292
WM SUPERCENTER #2504
WAL-MART SUPERCENTER 4
WAL-MART #1815 FRESNO CA
WAL-MART #1875 SEVERN MD
WAL-MART #0908 ORLANDO FL
WAL-MART #1031 OTTAWA CAN
WAL-MART #2504 KINGSTON NY
WAL-MART #5228 COLUMBIA MD
WAL-MART #3194 RED DEER CAN
WAL-MART #1972 LIVERMORE CA
WAL-MART #5299 CLERMONT FL
WAL-MART #5214 KISSIMMEE FL
Walmart MoneyCenter
Walmart Pharmacy
Walmart Auto Care Center
Walmart Vision Center
Walmart Wireless
Walmart Travel
DoorDash
Instacart
Remember that this isn't a full list of all the Walmart charges that might appear on your bank statement. Some charges may be called something else. You should call your bank or Walmart customer service to look into a Walmart charge you don't recognize on your bank statement.
These entries are part of the billing system and correspond to the different Walmart stores. They don't show that your subscription is still going.
Refund Policy for Canceling Walmart Plus
Want to know about refunds? Know this:
You may be able to get a full refund if you cancel within 14 days of signing up and haven't used any of the subscription's benefits. To start the process, call customer service.
You may be able to get a partial refund if you cancel after 14 days but before using any of the benefits. Get in touch with customer service and give them the information they need.
Remember that you can't get your money back from a Walmart Plus subscription once you've used all the benefits that come with it, even if you cancel within the first 14 days.
Exploring Alternatives to Walmart Plus
If you're looking for alternative services, there are excellent options available:
Amazon Prime: Offering movies, shows, music, and free two-day shipping on eligible items.
Netflix: Known for its original content and extensive library of movies and TV shows.
Hulu: Provides a diverse selection of movies and TV shows, with the option to add live TV.
Apple Music: Access millions of songs, curated playlists, and exclusive content.
Spotify: Offering a vast library of songs, podcasts, and personalized radio stations.
Disney+: Perfect for Disney fans with a wide range of content.
These alternatives offer a variety of entertainment options.
Final Words
Cancelling your Walmart subscription is a simple procedure that enables you to manage your subscriptions in accordance with your changing needs. Remember that Walmart's subscription service offers a number of perks, but it is always preferable to have the choice to quit if the service no longer meets your needs. We hope this guidance has made the cancelation procedure easier.
Frequently Asked Questions
Can You Cancel Walmart Plus Anytime?
Yes, you can cancel your Walmart Plus subscription at any time. Depending on your preference, you can cancel immediately or wait until the end of your pay cycle. Remember that if you cancel mid-cycle, you won't receive a refund for the remaining days.
Why Can't I Cancel My Online Walmart Order?
Several reasons could be at play if you're having trouble canceling an online Walmart order. It may be that Walmart is already preparing or shipping your order, there's a system delay, or there needs to be a technical issue with the website or app. In such cases, it's best to contact Walmart customer service for further assistance.
How Do I Remove My Credit Card from Walmart Online?
To remove your credit card from Walmart online, follow these steps:
Log in to your account on the Walmart website or mobile app.
Go to your account settings or payment options.
Look for "Manage Payment Methods" or "Edit Payment Options."
Find the credit card you want to remove and select "Remove."
Confirm your choice to remove the credit card.
Following these steps, Walmart will remove the credit card from your account. If you encounter any issues or need further assistance, don't hesitate to contact Walmart customer service.
Why would someone want to cancel?
Individuals might cancel their Walmart delivery subscription for various reasons, such as financial constraints, dissatisfaction with the service, or a change in their shopping preferences.
Is there a cancellation fee?
No, Walmart does not charge a cancellation fee. However, it is advisable to check the terms and conditions for any updates on their cancellation policy.
How do I contact Walmart for subscription issues?
For subscription issues, you can contact Walmart customer service through their official website or helpline.
Can I pause my subscription instead of canceling it?
Yes, Walmart allows you to pause your subscription if you do not wish to cancel it entirely. You can resume it whenever you are ready.
What happens to my scheduled deliveries after cancellation?
Once you cancel, all your scheduled deliveries will be canceled as well, and no further charges will be incurred.
How long does it take for the cancellation to reflect in my account?
The cancellation is usually reflected in your account immediately, but it might sometimes take up to 24 hours.
How do I cancel Walmart Plus on the app?
Open the Walmart app and sign in to your account.
Tap the three lines in the top left corner of the screen to open the menu.
Tap "Walmart+".
Tap "Manage membership."
Tap "Cancel membership."
Follow the on-screen instructions to complete the cancellation process.
How do I cancel my Walmart Plus trial?
To cancel your Walmart Plus trial, you can follow the steps above. You can also cancel your trial by contacting Walmart customer service.
How do I cancel my Walmart Paramount Plus?
If you have a Walmart Plus membership, you can watch Paramount+ for free. However, if you want to cancel your Paramount+ subscription, you must do so directly through Paramount+.
To cancel your Paramount+ subscription:
Go to the Paramount+ website and sign in to your account.
Click on your profile picture in the top right corner of the screen.
Click on "Account."
Click on "Cancel subscription."
Follow the on-screen instructions to complete the cancellation process.
How much is the Walmart Plus membership?
Walmart Plus membership costs $12.95 per month or $98 per year.