Walmart, one of the biggest stores in the world, knows that life can be unpredictable. This is why they give employees the option of a hardship transfer when problems arise. This guide details how to start a hardship transfer at Walmart, ensuring you have all the necessary information.
How to Do a Hardship Transfer at Walmart? Guide
What Is A Hardship Transfer?
In an emergency, Walmart employees can ask for a hardship transfer, which lets them move to another Walmart store, no matter how long they've worked there. This transfer can often be approved faster than more common transfer requests.
What are the Walmart Transfer Policies?
Walmart's transfer policies say eligible employees can ask to be moved to a different store. You must be in good standing at Walmart and have worked there for at least six months before you can be transferred.
The two kinds of transfers are short-term and long-term. Transfers are usually temporary and last between 30 and 90 days. They are done to fill staffing gaps at another store. You become an employee at your new store for good when you get a permanent transfer.
Walmart helps employees who are moving to a new store location if they are eligible. Some relocation help may include paying for things like moving supplies, lodging, and short-term living costs.
To get help with moving, you must have been hired or promoted to a salaried position and be required to move to a new store location.
What is a good reason for a hardship transfer?
A good reason for a hardship transfer is any situation that makes it difficult or impossible for you to continue working at your current store location. Some examples of hardship transfers include:
A medical condition that requires you to relocate to be closer to specialized medical care.
A family emergency, such as the illness of a spouse or child.
A change in your spouse or partner's employment requires you to relocate.
A domestic violence situation that requires you to relocate for your safety.
The Process of Employee Transfers at Walmart
If an experienced Walmart worker wants to be transferred because of financial problems, they must first talk to their store manager. That you clearly explain why you want to be transferred and what job you want at the new location is very important for success.
Walmart carefully considers each request for a transition one at a time. It's important to remember that the whole evaluation process can take anywhere from two to six months.
Eligibility Criteria for Hardship Transfers
Before initiating a hardship transfer, knowing if you qualify is essential. Walmart has laid out specific criteria that associates must meet:
Consistent Employment: The associate must have been employed with Walmart for a minimum duration, typically six months.
Good Standing: The associate's employment record should be free from recent disciplinary actions.
Genuine Hardship: The reason for the transfer request must be genuine and verifiable.
Find an Open Position: Identify an open position you are qualified for in a different department at your current store or another Walmart location.
Application Process: Apply for the position through your OneWalmart account's "career preferences" tool or contact the store directly to discuss the position with the manager or people lead.
Points Record: Ensure you maintain no more than three "points" on your record.
These are the basic prerequisites for requesting a transfer, but you can take other proactive steps to facilitate and expedite the process, increasing the likelihood of approval.
The Process of Initiating a Hardship Transfer
Open Dialogue with Your Supervisor: The first step is to have an open conversation with your immediate supervisor. Explain your situation and the reasons for seeking a transfer.
Formal Request Submission: Following the discussion, you must submit a formal transfer request through the Walmart employee portal. Ensure all details are accurately provided.
Verification Process: Once submitted, the HR department will verify the reasons stated for the transfer. This may require you to provide additional documentation or details.
Decision Communication: The HR department will communicate the decision after verification. They will coordinate with the desired store location to facilitate the transfer if approved.
Application and Interview: Despite being an existing Walmart employee, you must undergo an application and interview process for your new position.
Potential Denials: Remember that Walmart management can deny any transfer request, though hardship transfers are less likely to be declined.
Time Frame: The transfer process can take several months or more, but some transfers get approved more swiftly.
How To Use OneWalmart To Request a Transfer?
OneWalmart is a familiar online employee portal for Walmart employees that streamlines various aspects of your work life. Here's how to use it for requesting a store transfer:
Log into your OneWalmart account and navigate to "Career Preferences."
Search for open positions at other Walmart stores.
When you find a position of interest, apply online.
If the store wants to interview you, you'll receive a phone call inviting you for an interview.
Proceed through the application and interview process.
You can accept or decline a job offer if the store extends it.
If you accept the offer, your new store location will contact your old store management for transfer approval.
Once your transfer is approved, a transfer date will be set, and you'll join your new store on your scheduled first day.
Before you apply online, you might also want to talk to the people lead at the Walmart store you want to transfer to about your plans and the job you're interested in. Talking to your store manager and people lead directly can also speed up the process and make it more likely to be approved.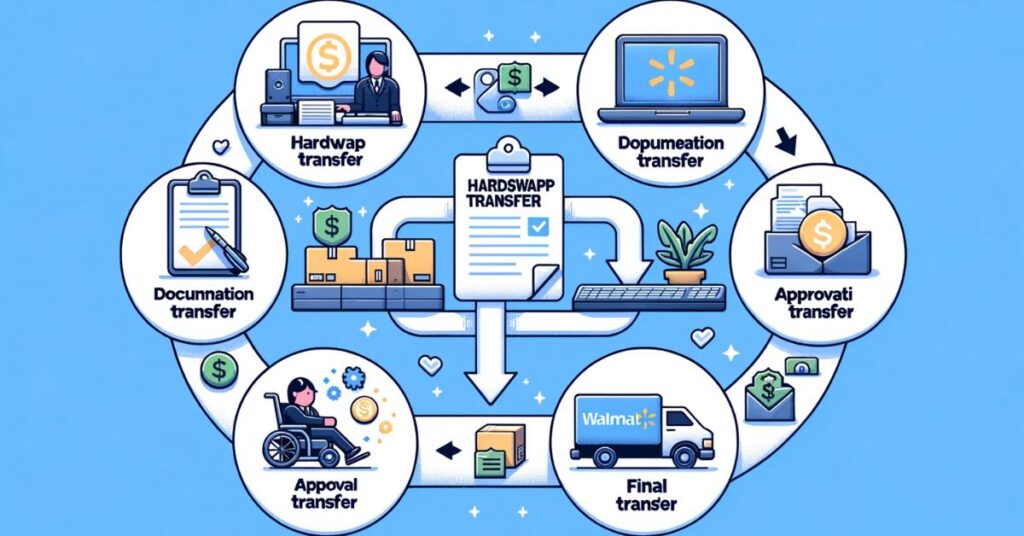 Tips for a Successful Hardship Transfer
Be Transparent: Always be honest and transparent about your reasons. Any discrepancies can result in a declined request.
Documentation: Keep all relevant documents handy. This can speed up the verification process.
Stay Proactive: Follow up with the HR department if you don't hear back within the expected timeframe.
Benefits of a Hardship Transfer
Walmart's hardship transfer isn't just about changing store locations; it's about ensuring its associates' well-being. Some benefits include:
Continuity of Employment: Associates don't have to resign and can continue their Walmart journey.
Mental Peace: Knowing that the company supports you during tough times can relieve stress.
Flexibility: Moving to a location better suits your current situation.
Will I get the hardship transition from the Walmart?
Walmart employees can ask for transfers through their profiles on the OneWalmart platform. When positions open up, the system will take applications.
It's a good idea to let store managers know beforehand to improve your chances of success. OneWalmart speeds up the process and keeps employees informed of possible opportunities.
Crossing State Lines: Transferring to a Walmart in Another State
Switching to a Walmart store in a different state makes exploring more than one state in Walmart's colossal network possible. Talking with your Store Manager about possible opportunities is the key to making this change happen.
Walmart frequently hires summer workers who are college students and want to work in their hometown or college town.
Transfer Pay Policy
One thing that many employees who are thinking about moving to Walmart worry about is how it will affect their income. Moving to a different store may cause your pay to change, but there's yet to be a clear answer.
Pay raises can be anywhere from $1 to $3, and more changes may be made depending on the new job level you are moving up to.
For example, Sales Associates and Cashiers average $11 to $14 an hour, while Department and Store Managers average $12 to $20.
Read other related guides:
Final Thoughts
Finally, Walmart's Hardship Transfer Policy shows how much the company cares about its workers. This detailed guide aims to give you all the information you need to complete the transfer process successfully.
This helpful guide gives you the information you need to make smart choices about your Walmart career. Please don't hesitate to contact us today if you have more questions or need more help. Your journey to a successful Walmart transfer starts here.
FAQs
Can you do an emergency transfer at Walmart?
Yes, you can request an emergency transfer at Walmart. Emergency transfers, such as domestic violence or natural disasters, are typically approved for employees in a crisis. You should contact your store manager to request an emergency transfer and explain your situation.
How do you ask for a transfer due to a hardship?
Talk to your store manager first if you need a transfer because of a hardship. Describe your situation and explain why you need to move. You should also include any proof you have, like a note from the doctor or a letter from your spouse's boss.
Your store manager will review your request and decide whether it can be done. If the manager agrees with your request, they will help you find a new store location that works for you.
What is considered a hardship transfer?
A hardship transfer is a transfer that is requested due to a personal or family emergency that makes it difficult or impossible for the employee to continue working at their current store location. Some examples of hardship transfers include:
A medical condition that requires the employee to relocate to be closer to specialized medical care.
A family emergency, such as the illness of a spouse or child.
A change in the employee's spouse or partner's employment requires the employee to relocate.
A domestic violence situation that requires employees to relocate for safety.
Is it possible to work at two Walmarts at the same time?
You can only be employed at one separate Walmart location simultaneously. Walmart policy prohibits dual employment at other Walmart stores.
Does Walmart Do Temporary Transfers?
Yes, Walmart does offer temporary transfers. Temporary transfers are typically for 30 to 90 days and are typically used to cover staffing shortages at another store. To be eligible for a temporary transfer, you must have been employed at Walmart for at least six months and be in good standing.
Does Walmart Offer Relocation Assistance?
Yes, Walmart does offer relocation assistance to eligible employees. Relocation assistance may include reimbursement for moving expenses, such as transportation, lodging, and temporary living expenses. To be eligible for relocation assistance, you must be hired or promoted into a salaried position and be required to relocate to a new store location.
Will You Make More Money if You Move to a Different Store?
You can make more money if you move to a different Walmart store. Walmart stores pay slightly different hourly wages and salaries based on where they are. You can talk to the store manager at the store you want to move to find out if you would get a raise if you did.
Can You Be Transferred When You Get Promoted?
Yes, Walmart employees may be transferred to a different location when they receive a promotion. However, not all promotions involve transfers. Whether or not you are transferred will depend on the specific promotion and the business needs.