Are you considering deleting your Walgreens account? Maybe you want to simplify your digital life, manage accounts for someone who has passed away, or you're no longer interested in the service. Whatever the reason, we are here to assist you in the process step by step.
In this article:
Why Delete Your Inactive Walgreens Account?
Data Security and Privacy Protection
Walgreens is a well-known United States company specializing in prescriptions, photo services, and health-related products. The company collects user data, including personal information such as your name, address, phone number, email address, and birthdate, as well as sensitive information such as your prescription history and health insurance details.
It's important to note that inactive accounts can be a prime target for malicious actors looking to exploit your information, just like with defunct platforms such as Google+ and MySpace, cybercriminals often target old accounts.
If your account is inactive, it's best not to let a company keep your data, as it could potentially lead to data breaches that could result in identity theft. Additionally, companies may profit from your data without your knowledge or consent.
Forgotten Login Details and Recovery Email
Users may need assistance deleting their accounts When they forget their Walgreens login information or recovery email. Walgreens offers support for recovering account information.
Other Reasons to Delete Your Walgreens Account
You are moving to a different country.
You are switching to a different pharmacy.
You are concerned about your privacy.
You are no longer interested in receiving email or marketing communications from Walgreens.
You are concerned about the security of your data.
You have had a negative experience with Walgreens and do not want to do business with them anymore.
You are simply trying to reduce the number of online accounts you have.
How to Permanently Delete Your Walgreens Account: 4 Methods Explained
If you're deleting your own Walgreens account, follow these simple steps:
Method #1 Through Website
1. Gather Necessary Information
Before embarking on the account deletion journey, ensure you have all the required details. This might include your login credentials and any other pertinent information.
2. Sign In to Your Walgreens Account
Using your login credentials, sign in to your Walgreens account. This will grant you access to the account settings and allow you to initiate the deletion process.
3. Access the Account Settings
Navigate to the account settings section. This is generally located in the top-right corner of the webpage. Click on your profile picture or username; a dropdown menu should allow you to access settings.
4. Locate the Account Deletion Option
Within the account settings, scour the options for a feature related to account deletion. Different platforms might have variations in wording, but it's commonly labeled as "Delete Account" or something similar.
5. Confirm Your Decision
Once you've located the account deletion option, the platform will likely ask you to confirm your choice. This is a critical step, as account deletion is irreversible. Take a moment to ensure this is indeed the action you wish to take.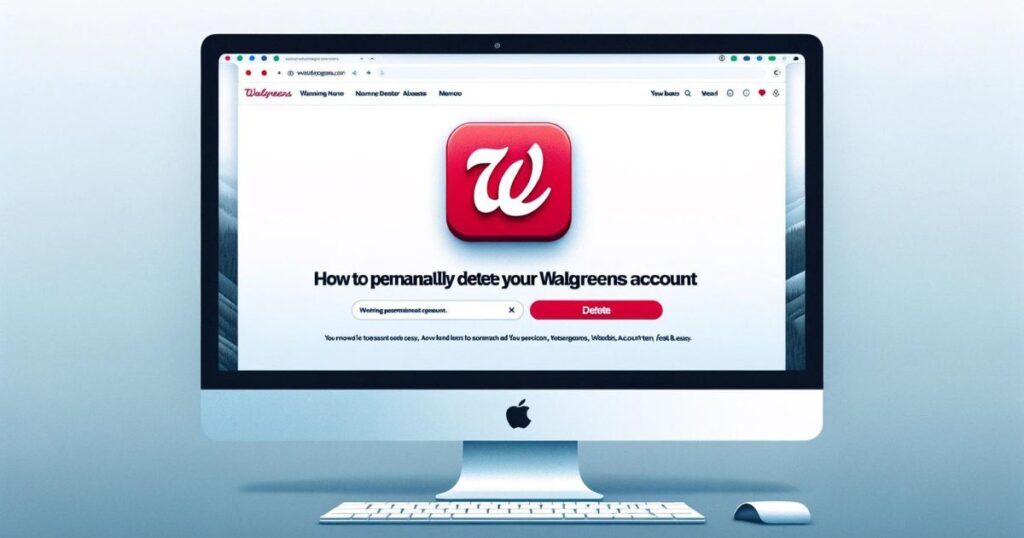 Method #2 Through Email
Deactivate Your Account via Email
Open the email account associated with your Walgreens account.
Compose a new email and address it to

[email protected]

.
In the subject line, type "REQUEST TO DELETE MY ACCOUNT."
Write an email explaining your intention to delete your account and then send the email.
Method #3 Live Chat
Delete Walgreens Account Via Live Chat
If you'd rather have a live chat interaction to delete your Walgreens account, follow these steps:
Visit the Walgreens website and click "Contact Us" on the homepage.
On the right corner of the page, under "General Information," click on "Live Chat."
Inform the agent that you'd like to delete your Walgreens account. They will guide you through the process.
Alternatively, you can also call 1-800-WALGREENS or 1-800-925-4733 for assistance.
Method #4: Contact Customer Service
To initiate the account deletion, you'll need to reach out to Walgreens' customer service. You can contact them via phone at 1-877-250-5823. Once connected, request the account cancellation.
You might also like this: How to Delete a Walmart Account Permanently?
How to Change Your Email on Your Walgreens Account
To update your email address and other personal information on your Walgreens account, follow these steps:
Sign in to your account and navigate to the "Personal Settings" tab under "Your Account."
Click "Personal Information" from the drop-down menu.
Click the blue "Edit" button next to the information you want to change.
Once you've made the necessary updates, click the blue "Save Changes" button.
You will receive an email confirming the change if you update your email address and username.
How to Add Someone to Your Walgreens Account?
If you want to add an adult to your Walgreens account, here's how:
Sign in to your account and go to your "Pharmacy & Health" tab on the Pharmacy Home page.
Under the "My Pharmacy Account" section, click "Family Prescriptions."
Click the "Add an adult" button under "Who Can You Add?"
Fill in the adult's first name, last name, date of birth, and email address.
Optionally, you can type a personal message in the "Additional Message" text field.
Click "Continue" to review and submit the information.
An email will invite the person to join your Family Prescriptions account on Walgreens.
Check out a guide on "Can You Cash a Check at Walgreens?"
Are There Any Alternatives to Account Deletion?
If you're concerned about data but still want to use Walgreens services, consider reviewing your privacy settings or limiting the information you provide.
How Long Does the Deletion Process Take?
Typically, the account deletion process is swift and should be completed within a few minutes of confirming your decision.
How to Delete Photos from Walgreens Account?
If you want to manage the photos in your Walgreens account, including deleting them, follow these steps:
Visit the Walgreens photo homepage and click on "Your Photos."
Select the album that contains the image you wish to delete.
Hover over the image, click the "Tools" icon, and select "Delete."
Confirm your decision by clicking "Yes" when asked to delete the image from your account permanently.
Final Words
In today's world, where our online presence is significant, it's crucial to understand how to manage and delete accounts. Deleting your Walgreens account is a straightforward process that involves a few steps to ensure your digital footprint aligns with your preferences.
By following this guide, you can confidently navigate the account deletion process and address any queries that may arise along the way. Remember, account deletion is a personal decision, and being informed empowers you to make the best choice for your digital identity.
FAQs
Can I Combine Two Walgreens Accounts?
Absolutely! If you wish to consolidate two Walgreens accounts, simply contact Walgreens Customer Service at 1-800-WALGREENS (1-800-925-4733). A friendly representative will guide you through the process, ensuring that any rewards points or coupons you've earned are seamlessly transferred.
Will a Cancellation Fee Be Charged?
In most cases, there won't be a charge if you cancel your account before the next billing period. To avoid any potential additional charges, make sure to keep your account up-to-date. Fortunately, Walgreens does not impose any charges for this service.
You can visit Walgreens' website for more detailed information and additional queries.
Will I Be Charged for Pausing My Account?
You have the flexibility to use your myWalgreens account as much or as little as needed. There won't be any charges for pausing or canceling it.
How Can I Discontinue My Walgreens Account?
You have two simple options:
Delete your account: Follow the above guidelines to merge accounts. The same steps apply.
Go inactive: If you choose not to use your Walgreens account for 12 consecutive months, it will be marked inactive. Eventually, it will be removed altogether.
Making Edits to My Walgreens Account – How's It Done?
Easy-peasy! Here's your quick guide:
Visit the Walgreens website and sign in.
Spot the "My Account" tab at the top right? Click it.
In the "Account Settings" area, you'll see an "Edit My Account" link. Go ahead and click.
Update any details as needed, and don't forget to hit "Save Changes"!
I Want to Erase My Prescription History at Walgreens. What Should I Do?
No Problem, You can clear this. Here's how:
Head to the Walgreens website and log in.
Click on "My Account" located at the top right.
Dive into the "Pharmacy" section and select "My Prescriptions".
You'll find a "View Prescription History" link – click it.
Next to each prescription you wish to remove, there's a "Delete" button. Click away!
You also might like reading this: How to Delete Walmart Search History?