Are you a Walmart employee looking for a hassle-free way to find your Walmart Identification Number (WIN)? Don't worry; we've got you covered. This comprehensive guide will walk you through various methods to quickly retrieve your WIN. Whether you're at work or off-duty, you'll have your WIN at your fingertips in no time.
How Do I Find My Walmart WIN Number? Steps
What Is a WIN Number?
Before delving into the details of how to get your WIN number, let's first understand what it is. A Walmart Identification Number, or WIN, is a unique code that Walmart assigns to its employees when they start working. It serves as a vital identification marker, ensuring that your personal information is secure and easily accessible when needed.
Importance of your WIN Number
Before we dive into how to obtain your WIN number, let's take a moment to understand its significance. Your WIN number, short for Walmart Identification Number, serves several essential functions, including:
Electronic Time Clock Punching: You'll use your WIN number to clock in and out of your shifts. It's the digital equivalent of the traditional time card.
Equipment Assignment: When you need to check out equipment for your job, your WIN number helps identify and track these assets.
Access to Applications: Your WIN number is your digital key to access various Walmart applications and systems.
Leave of Absence: When you request a leave of absence, your WIN number is used to identify you in the system.
Calling in Sick: Your WIN number is part of the verification process if you need to report an absence due to illness.
Now that you understand why your WIN number is so crucial, let's explore how to obtain it.
When do you need your Walmart WIN Number?
Your Walmart Identification Number (WIN) is a unique code assigned to you when you start working at Walmart. It is used for a variety of work-related tasks, including:
Reviewing your online pay stub
Reporting an absence or a late shift through the call-in system
Clocking in and out using your badge barcode
Accessing the Associate Emergency Information Line for critical updates
Enrolling in Walmart benefits
Changing your direct deposit information
Updating your personal information in the Walmart system
Your WIN is essential for smooth operations during your shifts at Walmart. It helps your managers track your attendance, manage your schedule, and access your employee records. It also helps Walmart to comply with various labor laws and regulations.
How to find your WIN Number? Different Methods
Method 1: Through WalmartOne Account
Log in to WalmartOne: If you can access a WalmartOne account, this is one of the simplest ways to find your WIN number. Go to the platform and login.
Access Your Profile: Once logged in, click on your name or profile photo at the top of the page.
Edit Profile & Security Settings: In your profile, navigate to the "Edit Profile & Security Settings" section.
Locate WIN: Scroll down to the "Login Information" section to find your WIN number.
Method 2: Ask Your HR Representative
Consult HR: If you're having trouble locating your WIN number, don't hesitate to contact your store's Human Resources (HR) department. They can provide you with the necessary information.
Method 3: Check Your Paystub
Access Your Paystub: You can also find your WIN number on your paystub. Simply log in to the Walmart portal and navigate to your paystub. Your WIN number should be visible there.
Method 4: New Hire Paperwork
Review New Hire Paperwork: Your WIN number may be listed in your new hire paperwork if you're a new associate. Be sure to check this documentation for your WIN number.
You might like this reading: How to Create a Walmart Account, Shop Online, Membership, Benefits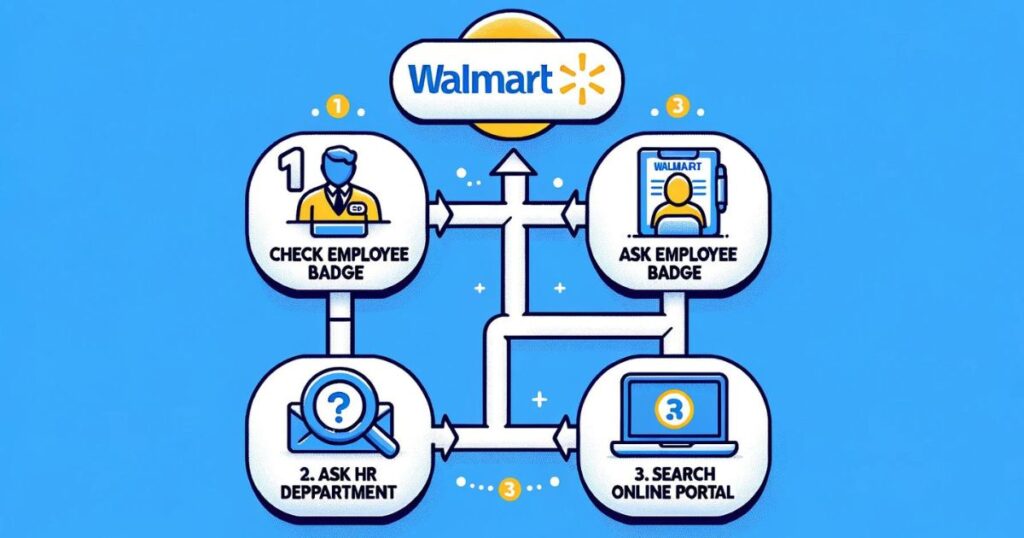 What if you don't want to contact them?
Method 1: Registration Receipt
The most straightforward way to find your WIN number is by referring to your registration receipt. This receipt is provided to you during your registration as a Walmart employee and contains essential information, including:
Full Name
Email
Contact Number
Customer ID (Walmart Identification Number)
If you have misplaced your registration receipt, don't worry. Walmart keeps your personal information and account number on file, making it easier for them to recreate a WIN number for you. You can expedite this process by visiting a Walmart store or contacting them via phone.
Method 2: Contacting Walmart
Walmart has a dedicated customer service department that can assist you in retrieving your WIN number. You can locate Walmart's regular routing number, 084003997, on the back of your card.
If you need to request your routing and account numbers, you can find this information on Walmart's official website (walmartmoneycard.com/walmart) by logging in with your credentials.
Guidelines for Conveying an Absence
Should the occasion arise to communicate an absence or a tardy commencement for a shift at Walmart, the following avenues are at your disposal:
Navigate to the official OneWalmart portal and register your non-attendance or delayed start via the allocated conduit.
Engage with the Walmart Associate Information Helpline by dialing 1-800-775-5944.
Liaise directly with your local Walmart establishment to apprise a supervisory entity of your circumstances.
Swift and punctual notification of non-attendance is imperative to sidestep potential repercussions. It's advisable to possess the ensuing data when articulating an absence:
WIN identifier
Birth anniversary
Establishment code
Periodic Leave
Walmart bestows upon its workforce the privilege of periodic leave, facilitating the declaration of the magnitude and regularity of anticipated non-attendances. This stratagem provides insights into the frequency of potential hiatuses from your duties.
For personnel aligned with the Family and Medical Leave Act (FMLA) criteria, the provision extends to a maximum of two lunar cycles of uncompensated, occupation-secured respite annually. Nevertheless, the eligibility for sporadic leave hinges upon FMLA benchmarks. Those outside the FMLA umbrella might petition for a brief periodic hiatus via the Accommodation Service Nexus, whereupon your qualification will undergo scrutiny.
To articulate a hiatus during a periodic recess, one must engage with Sedgwick by dialing 800-492-5678 on standard weekdays or via the mySedgwick platform. It's paramount to convey such non-attendances within a bi-calendar day window from its inception to eschew complications.
Under certain circumstances, a solicitation for reaffirming your health dossier might ensue. The stipulated regularity and span of hiatuses delineated in your inaugural health verification should not be surpassed. In events warranting a reaffirmation, Sedgwick will dispatch a requisition; this document mandates completion by your medical practitioner and subsequent submission to Sedgwick within a tri-weekly timeframe.
Diminished Operational Tenure
Should medical predicaments necessitate an abbreviated operational duration, the intricacies of your curtailed hours will be meticulously delineated. Your duty remains to promptly relay any deviations from this prespecified regimen to Sedgwick.
You also might like these:
How to Do a Hardship Transfer at Walmart?
How To Know if You Passed Walmart Assessment Test?
Final Words
Your WIN number is the key to a seamless experience within the Walmart ecosystem. Whether tracking your working hours, accessing resources, or dealing with administrative tasks, having your WIN number at your fingertips is essential. Following the methods outlined in this guide, you can easily obtain your WIN number and maximize your time at Walmart.
FAQs
What is my WIN number, Walmart?
Your WIN number is your Walmart Identification Number. It is a unique 10-digit code assigned to you when you start working at Walmart. You can find your WIN number on your paystub, badge, or in the Walmart system.
How do I get my WIN number from Walmart if I no longer work there?
If you no longer work at Walmart, you can contact your former manager or the People Services department to request your WIN number. You may need to provide them with your name, date of birth, and last known store number.
Where can I find my 10-digit Walmart number?
Your 10-digit Walmart number is the same as your WIN number. You can find it on your paystub, badge, or the Walmart system.
How do I do my 2-step verification at Walmart?
To do your 2-step verification at Walmart, you must have your smartphone with you. When you log in to the Walmart system, you will be prompted to enter a 6-digit code that will be sent to your smartphone.
To enable 2-step verification, follow these steps:
Go to the Walmart website and log in to your account.
Click on the "My Account" tab.
Click on the "Security" link.
Under "Two-Step Verification", click on the "Enable" button.
Enter your phone number and click on the "Send Code" button.
Enter the 6-digit code that is sent to your smartphone and click on the "Verify" button.
Once you have enabled 2-step verification, you will be prompted to enter a 6-digit code from your smartphone whenever you log in to the Walmart system.