Car audio technology has come a long way, from simple radios to modern touchscreens with features like GPS and Bluetooth. However, this advancement comes with the responsibility of ensuring proper installation. Without proper installation, an advanced audio system is useless.
If you consider upgrading your car's audio system, you may wonder if Walmart offers car stereo installation services. This guide will provide comprehensive details about Walmart's car stereo installation services, including pricing, types, locations, and more.
In this article:
Does Walmart Install Car Stereos?
Many people wonder whether Walmart offers car stereo installation services. The answer is yes. As part of their automotive offerings, Walmart has partnered with InstallerNet to provide installation services when you purchase a car stereo from Walmart.
InstallerNet ensures the stereo fits perfectly in your vehicle, providing an immersive audio experience. Their services are not limited to just selling car stereos.
Walmart's Partnership with InstallerNet
Walmart has teamed up with InstallerNet to provide top-notch car stereo installation services. After purchasing a qualifying car stereo from Walmart, InstallerNet will contact you to schedule an installation appointment. This partnership ensures a seamless process for customers looking to upgrade their car's sound system.
InstallerNet will typically request some essential information to understand better the system they will be installing and your car's specific make and model. You will need to keep your order information handy, including your name, the stereo's serial number, and other relevant details that can be found in your order confirmation.
Does Walmart install car radios?
No, Walmart does not provide car radio installation services in their physical stores. However, you can avail of this service when you buy a car radio online from Walmart's website.
During your online purchase, you can conveniently identify car radios eligible for installation services and add the installation service to your cart.
How Much does it cost to install a car stereo at Walmart?
The cost of installing a car stereo at Walmart depends on several factors, including the type of components that need to be installed, the installation method you choose, and the make and model of your vehicle. Other factors, such as the complexity of the installation and labor rates, may also affect the total cost.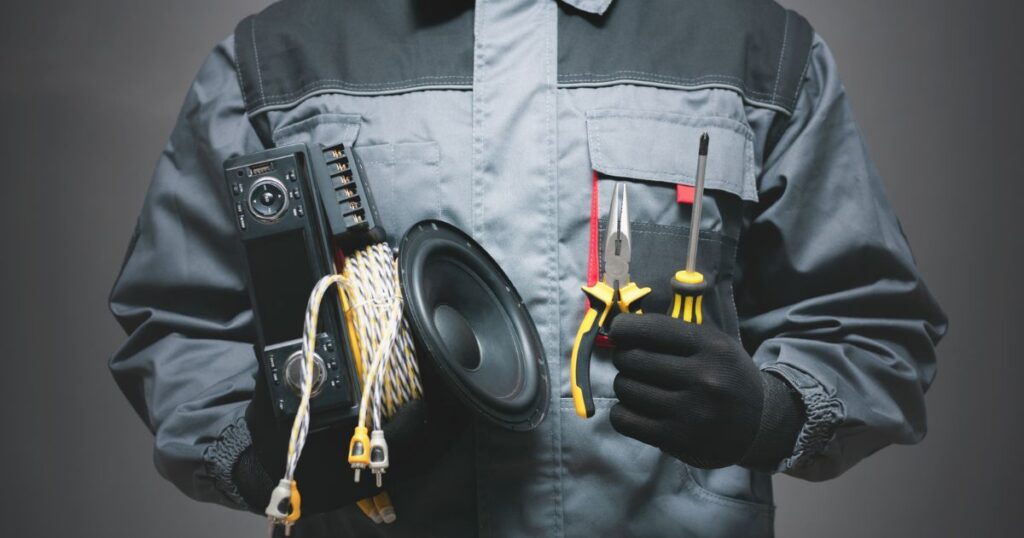 Components
Car subwoofer: $44.99
Standard car speakers: $64.99
Car component speakers: $102.78
4-channel car amplifier: $119.99
Mono or 2-channel car amplifier: $97.37
Installation
Standard installation: typically, around $49.99 to $64.99
High-tech stereo installation: $100+
Types of Car Stereos Available at Walmart
Whether you're a tech junkie or want to listen to some good old radio, Walmart has covered you.
Touchscreen Stereos: Modern, sleek, and packed with features.
Bluetooth-enabled Stereos: Perfect for hands-free calls and streaming music.
Stereos with GPS Navigation: Never get lost again!
Installation Process at Walmart
From start to finish, Walmart ensures a hassle-free experience.
Pre-installation Checklist: Ensure your car is clean and remove personal items.
What to Expect on the Day: Friendly staff, timely service, and a job well done.
Post-installation Care: Tips to maintain your new stereo and maximize its lifespan.
Safety and Warranty Concerns
Walmart takes safety seriously. Their technicians are trained, and they offer a warranty on their installation services, ensuring peace of mind.
Other Factors Affecting Cost
Vehicle make and model: Some cars may require additional fittings or adjustments, which can increase the installation cost.
Complexity of the installation: More complex installations, such as those involving multiple components or specialized wiring, will typically cost more.
Labor rates vary depending on location, so the installation cost may be higher in some areas than others.
How to Get the Best Price
Shop around and get quotes from multiple Walmart stores.
Ask about discounts for students, seniors, and military members.
Consider installing yourself if you are handy and have the necessary tools.
How Long Does Car Radio Installation Take At Walmart?
The car radio installation process at Walmart usually takes around 2 to 4 hours, depending on the type of installation. In rare cases, you may need to return the next day to complete the installation.
Once the installation is complete, you must sign a Walmart installation form certifying your car radio's successful installation.
Benefits of Choosing Walmart
Opting for Walmart's installation services comes with its perks:
Trusted Brand: Walmart is a household name, and its services are backed by years of trust and reliability.
Affordable Rates: Unlike specialized car audio shops, Walmart offers competitive pricing.
One-stop Shop: It's a seamless process from buying a stereo to installing it.
How to Schedule an Installation
Booking a car stereo installation service at Walmart is simple and easy. If your car stereo is eligible for installation by InstallerNet, you will receive an email requesting information about the stereo and your car.
This information will help prepare the technician for the installation, ensuring a smooth and hassle-free experience.
Booking Your Car Stereo Installation through Walmart
Booking a car stereo installation through Walmart is a straightforward process. Here's how to do it:
Visit Walmart's Website: Start by visiting Walmart's official website. The booking process can be completed entirely online.
Select Your Installation: Browse the available installation options and select the one that suits your needs. Ensure that the service is compatible with the car stereo model you've purchased.
Add to Cart: Once selected, add the installation service to your cart, just like any other product on Walmart.com.
Receive Email Confirmation: After completing your purchase, you'll receive an email from InstallerNet within the next three business days. This email will contain instructions on how to set up an appointment for your car stereo installation.
Choose a Convenient Time and Place: InstallerNet operates at over 1,500 locations nationwide. This wide coverage ensures you'll find a convenient place to have your car stereo installed, no matter where you are in the country.
What to Do if You're Unsatisfied with Walmart's Installation Service
If you're unsatisfied with Walmart's installation service, their customer support team can readily assist. Here are the steps to follow if you encounter any issues:
Inform Customer Support: Contact Walmart's customer support team through phone, email, or live chat.
Provide Your Order Number: To expedite the process, have your order number on hand, as it will help Walmart look up your purchase and installation details.
Explain the Problem: Clearly articulate the issue you're experiencing with the installation.
Request a Refund or Replacement: Walmart will work with you to resolve the problem and, in most cases, offer a refund or replacement.
Is It Worth It To Use Walmart?
The answer is a resounding yes! When it comes to installing your car stereo, trusting professionals is undoubtedly the right choice. Installing electronics, especially in vehicles, has a fair share of complexities.
Taking on this task yourself poses safety risks and increases the chances of damaging your stereo or vehicle's wiring.
Additionally, DIY installations typically do not have warranties, leaving you vulnerable to potential issues. By choosing Walmart and InstallerNet, you can ensure a hassle-free and professional installation with the peace of mind of a lifetime service warranty.
Alternatives to Walmart Installation
If you're having second thoughts, there are other options:
Local Car Audio Shops: They might offer a more personalized service.
DIY Installation: For the brave hearts! But remember, it's not as easy as it looks.
Other Retail Chains: Some other retailers also offer installation services.
DIY Car Stereo Installation
If you prefer to install your car stereo, Walmart has you covered. They offer car stereo installation tool kits that you can purchase online and in-store, with some kits costing less than $5.
Additionally, Walmart provides detailed car stereo installation instructions to guide you through the process. You'll also find individual tools, wires, and other equipment to assist you in the installation process.
Can you Purchase Car Stereos at Walmart?
Walmart offers a wide range of car stereos in their physical stores and online. You'll have many options with over 1,000 car stereos on their website. Some of these products may be sold and shipped by third-party companies, providing you with a variety of choices.
Whether you're looking for an essential car stereo or a more advanced model with touchscreen functionality and Bluetooth connectivity, Walmart.com has options starting at just $20.
Walmart's Auto Care Services
While Walmart's in-store Auto Care Centers do not offer car stereo installation services, they provide various other auto-related services at their 2,500 Auto Care Centers nationwide. These services include:
Tire installation
Tire balancing
Transmission fluid services
Car key copying
Installation services for wiper blades, bulbs, and more
It's worth noting that all these auto care services are affordable, with some even being offered for free. However, remember that these prices do not include the cost of any necessary parts.
Final Words
Does Walmart Install Car Stereos? Walmart offers car stereo installation services through its partner company, InstallerNet. This convenient service lets you install your new car stereo professionally, ensuring it works perfectly in your vehicle. Walmart also has a wide selection of car stereos so that you can find the perfect fit for your needs and budget.
FAQs
How long does the installation process take?
Typically, it takes a couple of hours, but it might vary based on the stereo type and vehicle model.
Can I bring my own stereo for installation?
Yes, but it's always good to check with the store first.
Is there a warranty on the stereo system itself?
Yes, most stereos come with a manufacturer's warranty.
Do they offer any discounts or promotions?
Occasionally, Walmart might have special offers. It's best to check in-store or online.
Can I schedule an installation appointment online?
Appointments are made in-store, but checking their website for updates is always good.
Can I install my own car stereo?
Yes, you can install your own car stereo, but it is essential to research and follow the instructions carefully. The difficulty of the installation will vary depending on the make and model of your car and the type of stereo you are installing. If you need more clarification about your ability to install the stereo yourself, it is best to take it to a professional.
How much does a new stereo for a car cost?
The cost of a new car stereo can vary widely, depending on the brand, features, and size. Basic single-DIN stereos can be purchased for as little as $50, while more advanced double-DIN stereos with features like Bluetooth, navigation, and touchscreen displays can cost upwards of $500.
How long does it take to fit a car stereo?
The amount of time it takes to fit a car stereo will also vary depending on the complexity of the installation. You can expect to spend about 30 minutes to an hour on a simple single-DIN installation. However, a more complex double-DIN installation with additional features may take up to two hours or more.
Do all car stereos fit all cars?
No, not all car stereos fit all cars. Car stereos come in two standard sizes: single-DIN and double-DIN. Single-DIN stereos are the most common type, measuring 2 inches tall and 7 inches wide. Double-DIN stereos are taller, measuring 4 inches tall and 7 inches wide.
To determine the correct size stereo for your car, you will need to consult your car's owner's manual. You may also need to purchase a dash kit, a trim piece that helps adapt the new stereo to your car's dashboard.