Do you want to purchase a new television? Or maybe you just bought one from Walmart and are having trouble with it. Either way, knowing Walmart's TV return policy inside and out is important to avoid any hassles.
This article will explain Walmart's TV return policy in detail, answering common questions along the way.
In this article:
Why Walmart's TV return policy is important
For most people, buying a TV, especially a bigger one, is a big investment. Knowing Walmart's TV return policy is very important to protect your purchase and get the most for your money.
This policy outlines the rules for returning new and used TVs in different situations. If you know about this policy, you can avoid stress and surprises after the fact that might make you want to return your TV to Walmart.
Walmart's Standard Return Policy For TV?
Walmart is known for putting the customer first. They have a standard return policy that lets customers return most items for a refund or exchange within 90 days of purchase as long as they are in their original packaging.
You don't need a receipt to return opened or used items for a store gift card or exchange. But this rule isn't always followed regarding electronics like TVs.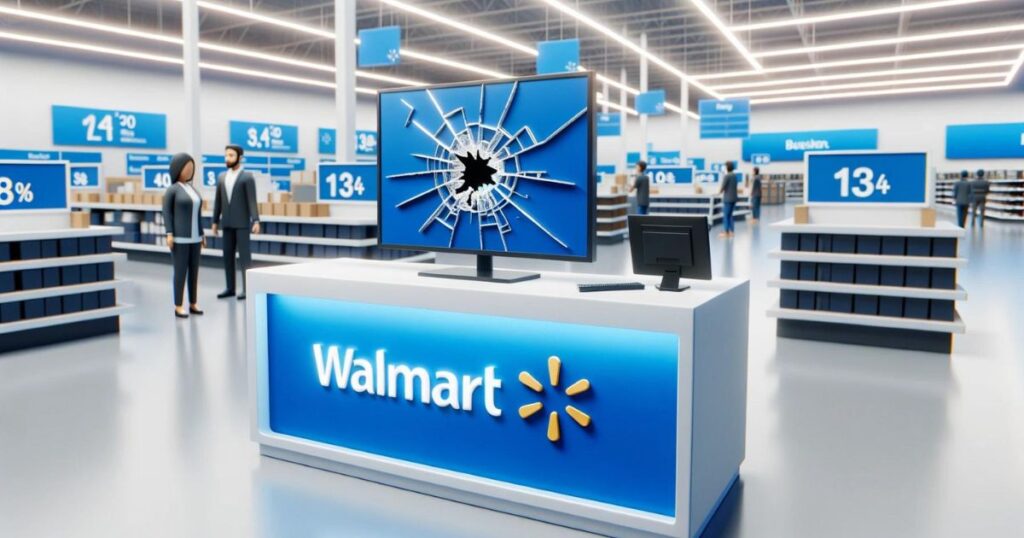 Walmart's TV Return Policy: The Specifics
As Walmart recognizes the unique nature of selling electronics, they've established a more specific return policy for TVs and other electronic devices. Here's what you need to know:
Eligible TV Types
If they are in good condition, Walmart accepts returns within 30 days of purchase for LED, LCD, OLED, and QLED TVs. Your TV should have all the necessary accessories, including the remote, legs, and a receipt.
Return Options
Depending on where you made your purchase, you have multiple return options:
In-Store Purchase: If you bought your TV at a Walmart physical store, return it directly to that store.
Online Purchase: If you ordered your TV on Walmart.com, you can return it by mail or at any nearby store.
Timeframe:
You have a 30-day window to return new and refurbished TVs to Walmart, starting from the purchase date.
Condition:
For a TV return to be eligible, it must be undamaged in its original packaging. Additionally, you must provide the purchase receipt. In cases where the receipt is missing, Walmart offers alternatives such as a Walmart gift card or an exchange.
Late Returns:
If you've exceeded the 30-day return window, don't worry. Walmart may still accept your return. The closer your return is to the purchase date, the easier it becomes. If you encounter any resistance, here's what to do:
Talk to Another Walmart Store: Reach out to a different Walmart store, as they might be more accommodating.
Contact the Manager: If you face difficulties with the return, engage with the store manager.
Complaint with Walmart Headquarters: If all else fails, inform them you're willing to file a complaint with Walmart headquarters. This often results in a successful return.
Can you return a broken TV to Walmart?
It can be hard to return a broken TV to Walmart unless you can show that the damage happened while the TV was in Walmart's care or while it was being shipped. If the damage wasn't your fault, Walmart might let you return the item. In this case, you might get a refund or a replacement.
Walmart's return policy lets you return broken TVs, but some exceptions exist. You can return the TV if you can show proof of damage and receipt then yes you can return it. This includes problems with the TV when it came from the store, bad handling by Walmart employees, or problems with how it was made. You can get a full refund or an exchange in this case.
You can return the item only if you have the Walmart Protection Plan. If you misused or mishandled it, the return will not be accepted.
Returning a Refurbished TV to Walmart
You can return a used TV within 30 days if you have the receipt. You can return the item in person or by mail. If you bought the TV from a Walmart reseller other than Walmart, you should call that seller to find out how to return the TV.
Can You Return a TV to Walmart After 90 Days?
When buying a TV from Walmart, you must return it within 30 days. People who work at Walmart can still take your return if you miss this deadline. If your return is turned down, you can take it to the next level by talking to the store manager. You should keep trying; if you have to, you can even file a complaint at Walmart's main office.
How to Return a TV to Walmart?
Returning a TV to Walmart is a simple process. TVs can be returned to any Walmart store or mailed to the company.
Customers who want to return something in-store must bring the original box and all the accessories that came with it, like cables and remotes. For a smoother return process, customers should bring the original receipt.
For online returns, follow these simple steps:
Log in to your Walmart.com account.
Navigate to your Order History.
Locate the order that contains the TV.
Click on the Order Details button.
Click on the Start a Return button.
Select a reason for your return.
Select between a refund or a replacement.
Add any optional comments you may have.
Select your preferred return method: in-store, by mail, scheduled pickup, or FedEx drop-off.
Review your return details and click on the Submit button.
Steps for in-store TV return at Walmart:
Gather the following items:
The TV you are returning
The original packaging
All accessories, such as cables and remotes
The original purchase receipt (if available)
Visit your nearest Walmart store.
Locate the customer service desk.
Inform the customer service representative that you would like to return a TV.
Provide the representative with the TV, packaging, accessories, and receipt (if available).
The representative will inspect the TV and verify your purchase.
Once the return is approved, you will receive a refund or replacement.
Read on further about the process.
Filing a Warranty Claim
Filing a warranty claim with Walmart is a straightforward process:
Ensure that you have the purchase receipt.
Visit the respective warranty service site based on your purchase date.
Follow the steps provided on the website.
Your query will typically be addressed instantly. However, if any issues arise, representatives will contact you.
If a repair is possible, a technician will be sent to fix the TV. Alternatively, you may receive a replacement.
Essential Documentation
Keeping the original box and receipt is important for a smooth return or warranty claim process. Walmart needs these things to process a return or warranty claim. This rule is for TVs and most of the things that Walmart sells. Some things may be different, though. Keep these things to make it easier to return something or make a warranty claim.
Key Points to Remember:
Return or exchange window: You have 30 days from the date of purchase to return or exchange the TV.
Condition: The TV must be in its original packaging and good condition.
Receipt: The original sales receipt is required.
Applicable models: Walmart's TV return policy covers all types of TVs, including LED, LCD, OLED, and QLED TVs.
Return Requirements and Exceptions:
For a successful return or exchange, remember the following:
The TV must be returned or exchanged within 30 days of purchase.
All types of TVs must be returned or exchanged in good condition.
The TV must be returned or exchanged with all necessary accessories, such as the remote, legs, and manuals.
All electronics, including TVs, should be returned or exchanged in original packaging. However, there may be exceptions.
In cases where the original box is unavailable, Walmart may accept a return or exchange with a valid in-store receipt. However, there may be a restocking fee.
Returning a TV to Walmart Without a Receipt
Stores will take back your TV even if you don't have the receipt. Instead of giving a refund, Walmart lets customers exchange the TV for a similar one or get store credit. If you can't find the receipt, ensure the item is still in its original packaging and bring a photo ID from the government and the debit or credit card you used to buy it.
Returning a TV to Walmart Without the Box
Walmart will take back a TV even if it doesn't have the original box as long as it's in good condition and comes with all its parts, like the remote and cables. For these kinds of returns, you will still need the receipt.
Can You Get a Refund After 30 Days?
The TV return policy at Walmart lets customers send back TVs within 30 days of buying them. The TV must be in its original box, not broken, and come with all its parts. Even though a receipt is preferred, Walmart will still handle the return without one. The original method of payment is used to issue the refund. It could be up to 10 business days before a debit or credit card payment appears in the customer's account.
Final Words
In conclusion, Walmart's TV return policy for 2023 is a good way to make sure you're happy with your purchase. Keep the box you bought the TV in after you get it, and return it within 30 days if you need to. Because of this friendly policy, you can buy your TV from Walmart without worries.
Have Walmart's TV return policies helped you? If so, please tell your family and friends about these helpful rules. They might not know about them.
You Might Also like these:
FAQs
Can I return something to Walmart that broke?
Yes, When the return window ends, you can return broken items to Walmart. But the return policy might be different for each item and each reason why it broke. For example, if the item was broken because of a problem with how it was made, you will probably be able to get your money back or a new one. When an item is broken because of carelessness or abuse, on the other hand, you might only be able to get store credit or a partial refund.
What happens if my TV arrives broken?
If your TV arrives broken, you should contact Walmart customer service immediately. They will likely ask you to provide photos of the damage. Once they have verified the damage, they will issue you a full refund or replacement.
What items Cannot be returned to Walmart?
The following items cannot be returned to Walmart:
Firearms and ammunition
Prescription drugs
Alcohol
Tobacco products
Prepaid phone cards
Custom-made items
Opened or used personal care items
Opened or used perishable items
What is Walmart's return policy on electronics?
Walmart's return policy on electronics is as follows:
Most electronics can be returned within 90 days of purchase.
The item must be in its original packaging and with all accessories.
A receipt is preferred but not required.
Refunds are issued to the original form of payment.
Debit or credit card refunds may take up to 10 business days to appear.