Did you know that Google uses over 200 factors to rank your website pages? That's a lot to consider! But did you also know that On-Page SEO isn't one of them? Don't worry, and I'm here to help you understand how to optimize your pages for success.
In this blog post, I will reveal my strategy on how to improve WordPress on-page SEO to achieve a 90+ On-Page SEO score for my WordPress blog. I'll break down the three main components of SEO and focus on the one that's often overlooked: On-Page SEO. You'll learn how to optimize your pages for the best possible results and attract organic traffic to your site.
If you're struggling with low organic traffic despite having an old website or a newbie who hasn't done any On-Page SEO yet, you're in the right place. I'll give you actionable tips and tricks to improve your website's On-Page SEO score and help you rank higher on Google. You'll be able to see real results in no time!
Three major components of SEO:
Technical SEO (Site Structure)
On-Page SEO (Individual Page Optimization)
Off-Page SEO (Link Building)
Here, we discuss only On-Page SEO and how to implement it for a better WordPress On-Page SEO score. 
How to do best on-page SEO practice with a free plugin called RankMath. We'll discuss this shortly.
You might be on this page because of the following reasons, and you're looking for an answer:
You've got an old website, but your current WordPress on-page SEO is not getting organic traffic. Or
You have a new website, but you've not done WordPress On-page SEO for the focus keyword
If you think you can't do it by yourself. You can contact me, and I will apply the same tactics. 
In this article:
What is On-Page SEO?
SEO stands for Search Engine Optimization. It is a process for optimizing your content within your web page to make it easy to find by your audience and Search Engines.
It is not only for your audience but also helps Search Engines (SEs) to crawl your site. If you're writing content that the audience wants, then these SEs help boost your ranking.
Site speed also has a significant impact on website pages; if you're focusing on on-page SEO and not on Site structure and speed, then it will not help your audience and SE. 
The audience wants quick access to your page; if it loads slowly, it will increase your bounce rate. 
Google wants to help its users easily and quickly access the information that they are typing on Google. Don't make your site fluff; create easy navigation throughout all pages. 
Google introduced a new algorithm to understand your content. The BERT (Bidirectional Encoder Representations from transformers). This update helps Google to deeply learn about words used in a sentence, with all the nuances of context.
The impact of this update is 10% on search queries. And it is a big update announced by Google in five years.
Basic and Important things that you should follow when you are doing WordPress On-Page SEO for an Individual Blog post or Page: 
Let's dive right in
Title and Meta Description Optimization
Title and meta description are highly important while doing WordPress on-page SEO. It directly helps search engines and the Audience understands what you put in the body text. 
If you think you're not good at crafting an SEO-optimized title, you can try Share through the headline. It helps you to check all the scores needed to write a compelling title. 
To optimize your title and meta description, you should add your focus keywords in the title and meta description, as demonstrated by the above image, with the focus keyword "SEO Content Writing Skills." 
If you're not sure about controlling pixels or characters for your title and meta description, try this tool.
URL or Slug Optimization
URL or slugs are the addresses through Google to find your blog's post pages. It helps users match their search intent. Using focus or primary keywords helps both Search Engines and the Audience to click on your post easily. 
The character length should be a maximum of 75 characters.  If it is more than this, RankMath suggests you keep this under these characters.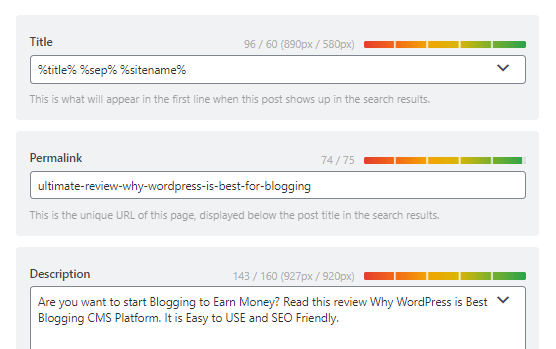 To better understand the URL for your Blog Page, read this 
WordPress is smart enough, and it will add your title as a slug; you should re-write it to keep it concise and under 75 characters. 
If you're not seeing your custom URL with your primary keywords, enable your permalinks with post names. You can visit this page by following this path: Setting>Permalinks
I.e.: http://versiontwo.local/sample-post/
Keyword optimization in content
Keyword density is an integral part of your writing part. Include primary keywords naturally. Avoid keyword stuffing on your blog page, as it is a bad tactic in the Google algorithm. 
While doing WordPress on-page SEO, check how often you used your primary keywords in the content. There is no specific rule for adding keywords, but it should be between 1%-1.5% in your content. So it looks natural. 
Here is an example of keyword density: a blog post contains 2500+ words, and primary words repeat 2.5% of the time. 
Add Internal and External Links
Internal links are those which point to another page within the same domain. 
External Links: These are those links that are linked to other sites from your domains. You can also add attributes like Do follow and No-follow. 
As you can see from the attached image.
These links help Search Engine bots crawl your site to see the other relative information on your site or other sites. It also helps to build authority when you are linking other authoritative sites. 
Make these links in an easy navigational way so that it can help users. While adding  "open in new tab" allows your audience to see the linked pages in the new tab this way, they get no distraction from the current page, and your on-site time will increase. 
Media or Images Alt Tags
Google can't read your image; what it reads are HTML tags. Add your description in such a way that the Search Engine understands the context that you want to deliver.
Whenever you add media (Video, Images, Files, SVG, etc), make sure to add Alt Attribute tags.
It not only helps search engines but also creates a better user experience if sometimes the image takes more time to load. Image or Media Alt Text will be displayed.
Use more than 3-4 Media elements in your blog post, with primary keyword.
Content-Length
Google uses more than 200 factors to rank content, but Google doesn't mention anything that tells us about content length. 
However, some best practices and studies strongly suggest that Google loves significant content, as it correlates more with ranking. 
All topics on the internet do not have the same context. For a recipe, you can't write content with more than 200–300 words, and for a guide like: "Why WordPress is The Best Blogging Platform," you can't summarize all the content in less than 1000 words. 
We are using Rankmath, which is a free plugin that offers WordPress on-page SEO. You can easily adjust the requirements and see suggestions for where to add or remove them.
If we follow the guidelines that this plugin recommends, our content length should be more than 2500 words for a 100% score.
As I have for my blog post "The Ultimate Review – Why WordPress is The Best Blogging Platform for You in 2023-24?" the SEO Score for this is 100/100.
Check Readability score
Write your content as simple, concise, and easy to readable. As it is a common saying in the advertising industry, people read your headline first and then read the content.
If you cannot engage with your headline, you're wasting your time and money. On the other hand, if there is a compelling headline and people click on it. You are increasing your "Click-Through Rate," which helps google to understand there is more relevant information, and it will give you a chance to rank for such Keywords. 
Include positive or negative sentiments, power words, and numbers.
Suppose you are wondering how to strengthen your content writing skills. There are countless other sources on different social media channels. 
As I mentioned, you should write for the audience and then optimize it for Google. 
Adding a table of content
If you're writing guidelines for "how to do On-Page SEO," then you must include steps that help the reader to understand better. 
There will be some readers who want to read a specific step and others who would like to read all of your blogs. You should create easy navigation so they can access particular steps with just one click.
The best way to add navigation to each step is by adding a Table Of Contents. 
Google also uses these sub-links and includes them on SERP. Here is an example to show more links to the same page.

There is no guarantee that by doing this, you will get this type of result. But if you do not include TOC then, it will not be possible to show such links on Google SERP.  
Some useful plugins that help you to add TOC in your content to get a better WordPress on-page SEO performance score.
To Summaries, WordPress On-Page SEO:
Add Primary keywords in the Title and Meta Description
Optimize URL or Slug with Target Keywords
Keywords Optimization
Add Alt Tags for Images and Media
Add Internal and External Links
To create fresh content, it should be concise and simple.
Add table of Content
Here are infographics that describe 7 steps for Doing WordPress On-Page SEO.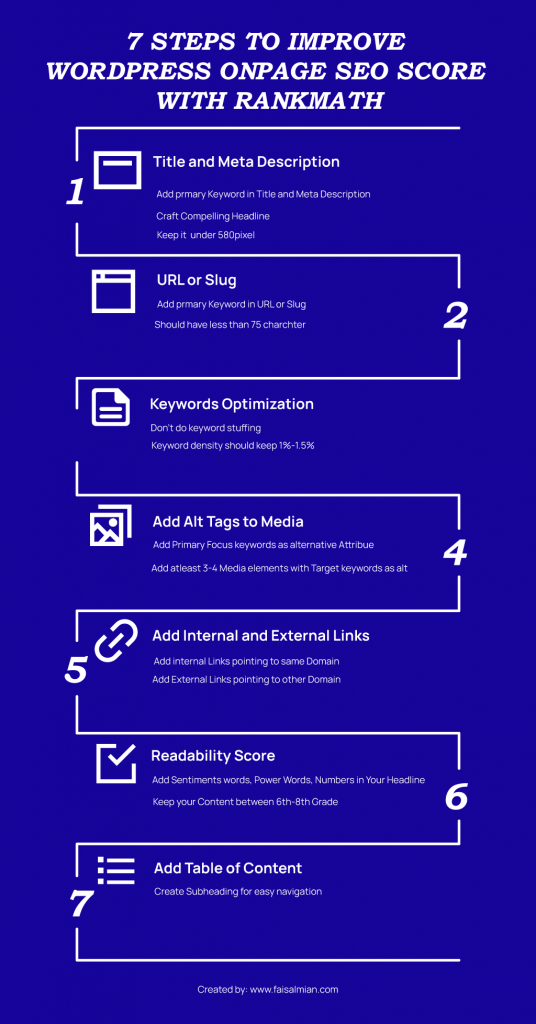 Do You Still Need Help with Doing WordPress On-Page SEO?
If you have a workload and do not have time that you can spend doing your Blog post-on-page SEO — no problem, I'm providing an exclusive service for on-page SEO here and also a Freelance Platform. 
I have achieved a 100/100 score by writing SEO-optimized content for Techs and businesses. I will do the same for you to contact me to discuss your project or visit my SEO service.