Why is this industry, is growing?
Why is it the most eye-focused organization for many businesses on the Internet?
Let me show you some stats, so you can see how it was? And what it will be in the next few years?
As we all know, because of this shitty pandemic every business is focusing on remote work (Work From home).
Some years ago, it was soothsaying that content marketing will hold a share of around $400b until 2021, But this supposition changes now.
In A report by Business Wire. The content marketing industry is growing and now there will be a hike of $269b during 2020-24.
As everyone knows that social media marketing has become more useful these days. Billions of people are using social media apps across the Globe.
Now let's Discuss "What is Content Writing"
Content writing is a way to build authority for you and your business, to get more leads. It is a long-term Investment for brand awareness with writing fresh and useful content.
Content writing is the best option for Highest ROI. It will save you money. An estimation; it saves 62% of your money! Then investing in advertising, and generates 3 times more leads.
Using content there is a 19.7% increase in traffic than other sources.
It is also a way to educate your audience, to build a relationship with them, so you can sell your product or service.
It includes blog posts, articles, help guides, white papers, scripts, podcasts, and presentations. Not only that, but it becomes a primary resource for people to communicate with each other.
In 2021 content writing is become a more interesting and profitable niche. If you're a Freelance Writer or have your own business you must understand its fundamentals.
To get more organic traffic, and leads you should learn "how it is affecting businesses?" and "Why you should focus on SEO content?"
If you want to learn content writing skills. This article will help you overcome your fear and make you a Good content creation expert.
Learn How to Improve Your Content Writing Skills
Let's split it into sections, so you can understand how to get mastery in this skill!
You don't need a special degree to get a master's in this skill. If you're passionate to write everything that is happening around you.
Some people scale their self, find their dream clients that they want to work with them. On other hand, some are stuck with reading a lot of stuff but not able to omit a single word. Duh!
If you are learning writing skills then you must spend your ¾ time doing practice, writing on any topic.
To put something new in your brain, you should first make it empty for that. For this purpose, read these lines are from Cashvertising Book
"The guy ranted on and on while the master poured the reporter's tea. As he endlessly babbled, the tea quickly rose to the rim of his cup and began spilling all over the floor.

The reporter finally stopped yakking and said with surprise,

"What are you doing? You can't pour in anymore! The cup is overflowing!"

"Yes," responded the wise master. "This teacup, like your mind, is so full of ideas that there is no room for new information. You must first empty your head before any new knowledge can enter."

DREW ERIC WHITMAN
Let's dive right in!
The 5 Basic skills that you must know to master yourself
Before moving on to how to improve writing skills! You first need to make sure to keep in mind, so you can write optimized content.
To create an environment that boosts your productivity, it should be distraction-free.
Understand your employer's goals, and write what they want from you!
Use simple words that deliver your message.
Compose paragraph in such a way that it creates visual IR (Internal Representation)
A basic understanding of Keywords and On-page SEO to boost your organic traffic.
You don't get overwhelmed with all the stuff, in trying to jargon all the niches. Choose one niche and master yourself in that, this way you can scale yourself.
As I mentioned earlier. Content writing is a primary source to communicate with your readers. Create a visual movie in their mind for a better understanding of your product or service.
Read Every Day, Blogs, e-Books
This is the most interesting thing that I do, to improve my writing skills. You should read other bloggers! To see how they transform their message into writing.
Don't worry, you'll find a lot of content that is like a piece of junk! This is because many bloggers write retch the same old stuff, without doing any research.
Content Marketing is evolving industry and it never going to die. On the same road, you will find many useful sources.
There is a lot of content marketing agencies out there. That is creating fresh content and spreading it with facts and figures.
I read blogs from one of my favorite content marketing experts. They are Julia McCoy, Brian Dean, Copyblogger, and Jon Morrow.
Try to search for a useful source to learn such a skill. As it will save a lot of time and make you able to write content that matters.
Some useful e-books also help you to build your reading habits. My favorite e-Books are:
Cashvertising – Drew Eric Whitman
The One Sentence Persuasion Course
So, You Think You Can Write– The Definitive Guide to Successful Online Writing
The Copywriting Sourcebook– How to write better copy, faster – for everything from ads to websites
Awaken the Giant Within – Winner Walking by Anthony Robbins
You will see! How all these bloggers, authors and publisher convey their messages and generate sales and brand awareness.
Note: Always write what you read and learn every day; even a single line will also help you improve your skills.
Find a Mentor for Reading their Guides Daily
It is a tough task to choose a mentor that helps you to improve your SEO content writing skills!
There is a lot of content strategist and blogger on the internet. That is helping and running millions of dollars agencies.
Mentors will help you make your journey smooth. You can ask them and join different social media channels for help. They are very cool people and will help you with your complacentness.
Some newbies are very shy, and they didn't want somebody to read their content. You should offer your copy or content to your friend or mentor for feedback. These are good tactics to improve your writing skills.
P.S. I have mentioned some useful resources for blogs and e-Books. You will learn a lot from these guys! As they are a good content strategist.
Do your research before start writing
When you start writing, always research to match your client's or your own goals with your content writing. If you are not doing, so then you will get fluff at the end.
To start writing, SEO-optimized content, research is an important part. There are many sources to find your content, to see where your competitors are ahead of you or your client.
It will also help you to encapsulate more knowledge in your mind by doing so. You'll come across relevant stuff that will help you in the future.
I'm writing this article after researching for a week. Create a headline, check its performance. I will discuss later "How you can check heading Quality?".
It will help you to understand your competitor's content strategy. So, you can come up with more fresh and useful content that your readers are looking for.
Write it for your Audiences
Are you writing it for yourself? Or do you want it for your potential audience? Keeping your audience in mind is a fundamental part of Content Writing.
If you don't understand demographics, then you will be not able to reach the right audience!
A skilled writer keeps his audience on his table and then type on the keyboard. To deliver the best you must pay attention to your audience.
Your audience is your business. If you're not able to deliver then they will skip through it and land on another landing page. This is bad as it will increase your bounce rate, decrease dwell time, and more.
You can see your demographics through Google Analytics. For better understanding see all parameters that are under "Audience" in GA.
If your target audience is "Copywriter" then you should create content with Free Guides, Videos, and e-books.
Craft Headline that Best describes You, or Your Product
Your headline is your first line that either hooks or loses your reader.
Your headline should be simple and effective. It best describes to your audience what they'll achieve at the end.
If you want to get mastery in crafting a Quality, High Engagement, and Impression headline for your next topic or content writing try "Sharethrough headline Analyzer"
I also test this topic "Heading Quality Score" and it is 75 which is above average.
Write Your Blog body with Simple Words
If you're thinking that using complex vocabulary, and words create a great impression for you! And it will make you a good content writing expert. Then you are wrong.
According to Flesch! Readability grade, your content should be between 4th -8th-grade reading level.
The table for the Grade reading level is: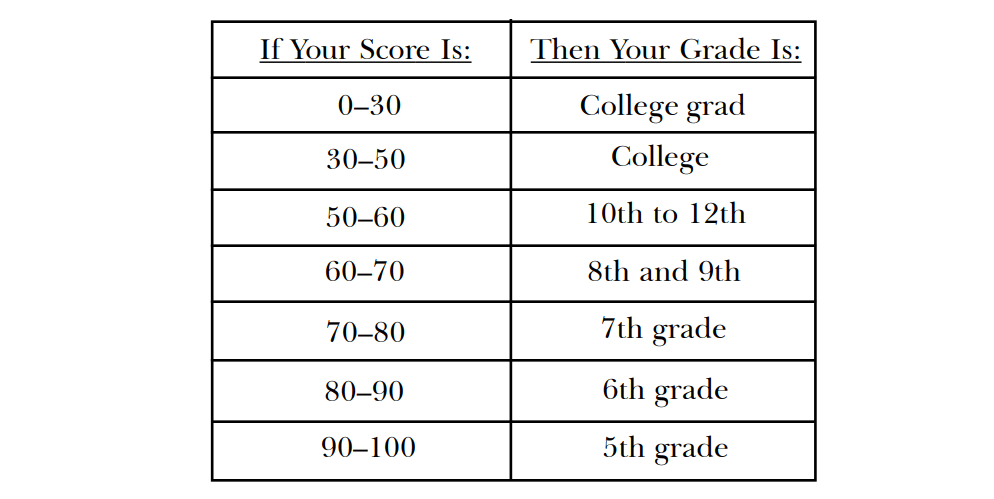 Higher the score it will be simple and easy to understand.
If you're wondering how you can check your content readability grade. Here is a free app "Hemingway" where you can edit it, and make it simple.
Also, avoid fillers words like that, they, very, actually, etc.
Use Infographics to deliver more information
Infographics content is getting more popular than text, as it delivers more information.
There are mind-blowing stats for Infographics. In a report the content with "What Post", "Why Post", and Infographics get 25.8% more links than other content.

You can make such infographics using graphics tools, or online sources like Canva. These tactics are very useful when you want to start your business as a content writing expert.
Use These Tools to Improve your SEO content writing skills
Just writing thousands of words is not make your content writing skills great, you should make it SEO Optimized, and Make it simple to convey your message easily.
Here are some tools that I mostly used for my Content creation. You should also use them to make your work easier.
Hemingway
Share Through Headline Analyzer
These tools are available in both Free and Paid. Start with a free plan and if you enjoy using these tools you can buy their premium plan also.
Make sure to Practice it, until it Becomes Your Daily Routine
Create crappy content, and don't let yourself interrupt with editing it. When you're done with writing then fix it by yourself, or using any of these tools mentioned in the last heading.
First, you should create an outline for the heading and then a subheading. It will make your process easier.
According to Malcolm Gladwell, the best-selling author. He said that it takes him 10,000hours of "deliberate hours" to become an expert in content writing. If that's true then why you should not try this?
As they say, "Practice makes a man perfect." If you want to be good at what you want, then make sure to practice it daily.
If you want to learn SEO Content writing skills! You must do practice by writing down what you've learned every day.
Get out of procrastination, then you will see how it makes you the best content writer or copywriter.
Final Thought
Now, it's time to become a Good Content writing or creation expert, if you want to start a freelance business then start it today.
These 11 steps will improve your SEO Content Writing skills. If you want to learn more about content writing, there are plenty of resources on the Internet, use them, and Practice them.
I've also mentioned some useful resources that you can see and grow your skills for 2021.
If you need any help with Content Creation, Content Strategy for your business, and you're not sure! You can Contact Me.
Your Success is our Business.