This post highlights some basic Q/A for a new affiliate marketer or beginner to learn about Affiliate Marketing Networks.
Before diving deep into these questions, let's look at why Affiliate or Associate programs are becoming more popular these days.
15-30% of all online sales are generated through Affiliate Marketing.
15% of all Digital Media earning are through these affiliate marketing programs.
Since 2015, Affiliate Networks and programs have grown 10% annually.
It is a fast-growing industry worth $12B in 2018. It is becoming a global industry.
81% of all e-commerce stores or brands generate online sales through affiliate programs or network offerings.
A higher percentage, ~18.70%, of Fashion and Beauty products are promoted by most affiliate marketers. (Source: AM Navigator)
Here are some well-known questions that come to mind when you think about affiliate marketing networks. That offer rewards in the form of commissions by providing affiliate links to insert on your site.
What is Affiliate Marketing Network for Beginners? How can I start with it?
Affiliate marketing networks offer a specific percentage of product sales to an affiliate marketer. As they promote their product using different mediums or channels, can I use them to run this business?
Blog Posts
Social Media Networks
Email Newsletter
Reviews Video on YT / Tutorials
Sponsoring Video
Product reviews blog posts
And many others
These affiliate or associate programs have some pros and cons with their services.
They play the role of bridge between a merchant with an online store and an affiliate marketer who prompts products or services.
They have a variety of pros and cons. Each network has a different Pricing Model and link offering process. A few needs you to apply for each product or service, and some provide a single affiliate link.
Now, the question is: How can you start it? You can start it simply by launching a blog website. Best recommended CMS is WordPress for blogging. It has numerous features and free resources that help optimize your content for humans. And organize site structure to be easily accessible by search engine bots.
What is the affiliate network examples?
As mentioned above, in statistics, around ~81% of brands use this technique. The different names of AM are Affiliate Programs and Associate Programs.
Most well-known networks offer such kinds of links to publishers (Affiliates).
Amazon Associate Programs
AliExpress Affiliate
Awin (Formerly Affiliate Window)
Shareasale
CJ Affiliate
Clickbank
The Zalando Partner Program
Shopify
And the list goes on.
Who can do Affiliate Marketing?
There is no age limit for doing affiliate marketing business. It applies to all ages. A study by Statista in 2016 shows that most people doing affiliate marketing are in the range of 25-54. Around ~82% of all these ages from 25-35.
Where can you use affiliate links?
You can use these links on your site naturally. Add affiliate links to your blog post. If you're using WordPress, use the Pretty Links plugin to redirect your audience toward the affiliate network's site.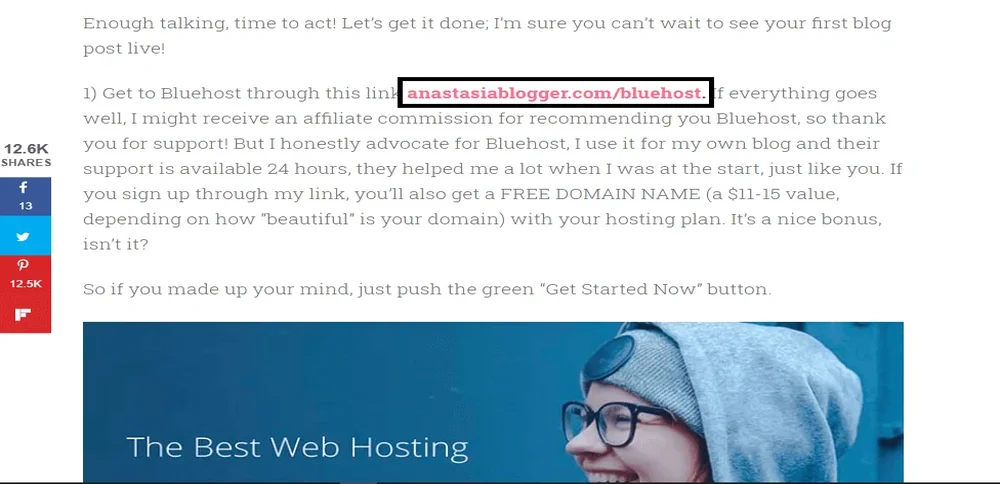 Add Affiliate Marketing Networks Links or Referral link Naturally in your content.
What are affiliate program types offered by these Networks?
Many factors considered are offered by these associate programs to affiliate marketers. These are:
CPA: Stands for Cost Per Action. It is rewarded when a visitor completes the action offered by Affiliate Networks.
CPL: Stands for Cost Per Lead. Advertisers will only pay the marketer when a content consumer is interested in advertiser offers, like a sign-up newsletter.
CPM: stands for Cost Per Mile, or a thousand, and it is the amount an affiliate network will pay for a thousand impressions to a marketer. It is common for display advertising.
CPC stands for Cost Per Click. In this pricing model, advertisers will pay a fee only when they get clicks for the specific keyword they are advertising on Google Ads.
How do Affiliate Marketing Networks work?
Many brands and SaaS businesses on the internet have a partnership program with these affiliate networks. These networks have different criteria for nurturing publishers.
The purpose of these networks is to accept only those affiliate marketers relevant to their niches.
To understand the concept of affiliate marketing networks, see this process flow chart.
Is affiliate marketing legit?
Yes, it is legit, and affiliate marketers are making their living with this business. They are earning around 6 to 7 figures. It is not an accessible business, as it requires consistency and a lot of patience if you are working alone.
If you know all about SEO, then this business helps you to rank your content efficiently. While choosing this business, spend more time on selecting a profitable niche; this is the only way to get a quick in this business.
Add relevant and fresh content to your site, do WordPress on-page SEO, improve site structure, and build backlinks to your site.
How can you become an affiliate marketer?
Becoming an affiliate marketer is not so easy and not so hard. This business becomes easy for you if you're consistent with your goals.
Following are the steps to becoming a good affiliate marketer:
Find a specific commercial niche that entices you the most.
Buy a domain and hosting to launch your site
If you're a good speaker, then create a YouTube Channel.
Write relevant and fresh Affiliate marketing content for your niche.
Upload content regularly, as it signals search engines to crawl your site to see if there is newer content.
Apply On-Page SEO correctly. Like adding your keyword in the Title, Slug, Meta description, Body Text, Image Alt tags, and internal and external backlinks.
Promote your content on social media, and bring more traffic to your site.
Build authority in a specific niche. This way, you will be commissioned by your audiences and Search Engines (SE)
Send email newsletters to your potential audience.
How can I find valuable resources to learn this skill?
There are plenty of valuable sources out there; the best start to learn and master this skill is through learning, content writing, and SEO. If you lack time, you can hire a freelancer or get a subscription for Surfer SEO and Jarvis AI tool to write your content.
Some Useful Sources that I have followed:
Quora
Ahref
Diggity Marketing
Reddit
YouTube
What key things to consider while choosing an Affiliate Network's website?
While choosing the best affiliate network, you should pay attention to the following key factors:
The tracking system of affiliate networks, e.g., cookies
Product Quality
Check your competitor's affiliate network
Commission Percentage
Affiliate Network Support
What kind of interface do they have – Easy to manage?
Associate Programs transparency and policy – background information
Merchant background information – Focus on quality products instead of quantity.
Relevant to your niche
The pricing model offers commissions like CPL, CPM, CPA, and CPC.
Consider products with high price tags.
Which Affiliate Programs are paying high recurring income?
Best recurring affiliate networks are considered tech or SaaS companies, like Web Hosting and Software. Here is a glimpse of recurring commissions merchants offer to affiliate marketers.
Samcart — 40% recurring commission
Shopify — 20% Recurring Commission
Divi Theme — 50% recurring commission
Payhip —50% recurring commission
Hubstaff—30% recurring commission
ConvertKit—14-day free trial, 30% monthly recurring commission
Aweber—Free 30-day trial. 30% monthly recurring commission
Thrive Themes—25% recurring commission
Superb themes—60% per sale.
Provide Support—30% recurring commission
SEMrush—40% recurring commissions
SEO Pressor—50% recurring commission
Mangools—$487 for each lead
LongTailPro—30% recurring commissions.
SpyFu—40% recurring commissions
To learn more about recurring commissions for these Techs and SaaS Merchants.
Affiliate Marketing Programs Bottom line:
If you're starting this business, find a specific niche. Create fresh and relevant content, upload it to your site, and spread it on social media. Carefully choose the product. Select the product that you'd like personally used. Do your best to build authority and get organic traffic to your site. This way, you'll redirect your potential audience to the advertiser's product and earn a commission.
Hire me if you want a blogging site or SEO for your Affiliate Marketing website and content writing service.
Did you get questions? Please let me know in the comments section.